Team Building Ideas
Looking For Perfect Team Building Ideas?
Our feedback: A Murder Mystery is be an excellent idea for team building. During the last one that I attended, we were able to cap off a day of training for a development project with a Murder Mystery that came as a total surprise. What was even more surprising is it made the follow up day, when the actual development guidelines were discussed more engaging, and there was more creative negotiation between the different departments than ever before. It was something that I am taking back to Adelaide as an idea for my own office to do. Jim Thorn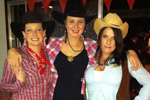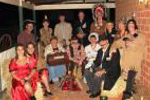 What is team building?
Ask any employee and team building is a tedious exercise in social embarrassment. If they have been around for long enough they have perfected having to take an important call, or go to the bathroom, right when they detect that team building is going to occur. If you do an anonymous poll, send one out proposing a team building weekend of field games and activities and see what your employees really think about such activities. Coming up with the right team building ideas therefor becomes vital. What employers forget is that team building exercises take away from the employee's family life. The use of a Murder Mystery showed me a team building idea that is worth the investment and how it can also boost morale.
Our Murder Mystery Party Games
Click a game to learn more
Boxed and Download - Adult murder mystery games
Download Only - Adult murder mystery games
Teenager murder mystery games
Adult and teenager party games (no murder)
Kid's party games (no murder)
What is a murder mystery?
A murder mystery is exactly what it sounds like, in a group setting there is a staged murder and the rest of the attendees are cast into the role of helping as detectives to solve the mystery. Famous murder mysteries include ones such as Murder on the Orient Express. The key is that the location is closed, the involved members may not know each other well, but they all have a connection, and there is one person who can put the clues together to see the big picture – if someone else doesn't beat them to it.
Why does it make for a great team building idea?
With a Murder Mystery team building idea you have all the elements of a regular team building event. You bring your people together and they have to function as a team to successfully complete the task. Where a Murder Mystery breaks free is it calls into play two different elements that most business exercises can't touch. Murder Mystery events tap into skills and talents that are used by people every day to be functional and successful. Pulling hard on a tug-of-war rope really doesn't reinforce any skills. Also, while working together to solve a mystery, every member of the team counts. Murder Mysteries let you get to know each other better.
Including the family?
One of the best ways to stage a Murder Mystery team building idea is to do it in a way that includes the significant others of your employees. Staging it as part of a dinner is an excellent idea, as is holding one as a day cruise. This lets your employees begin to connect with each other as real people, this changes the dynamics of the team into one that is healthier, more supportive, and creates a stronger bond too. These are things that can't be done with ice-breaker and the usual team building ideas, hosting a Murder Mystery may have a surprising impact on your bottom line. The more you can get your employees to connect as a team with a healthy dynamic, the greater productivity will be.
Our Murder Mystery Party Games
Click a game to learn more
Boxed and Download - Adult murder mystery games
Download Only - Adult murder mystery games
Teenager murder mystery games
Adult and teenager party games (no murder)
Kid's party games (no murder)
© 2019