Serial Slaughter
Dinner anyone?
Do you relish crime and murder dramas? The world of serial killers offers a gripping experience that's far from ordinary. Join a band of depraved individuals, including cannibals, kidnappers, and poisoners, as we explore history through the eyes of notorious serial killers.
Testimonials
We had the download! We thoroughly enjoyed it - it was well pieced together and it all made sense. We had a cracking night. I can't think of anything that we felt was missing during the evening.
---Annabel---
We had a fabulous evening. The download was very straightforward as were all the instructions. My daughter acted as the host. I worked on the props and costumes turning our home into a blood splattered crime scene that channelled Manson, Dahmer, Bundy, Kemper and Milat. My guests loved it. The game was complex enough to challenge and not so long as to lose people's attention. This is a very good product and l happily recommend it.
---Amanda Edwards---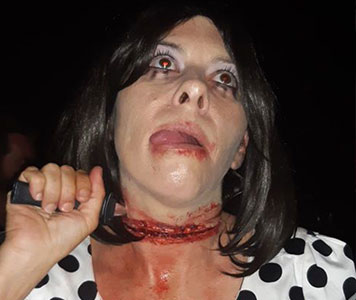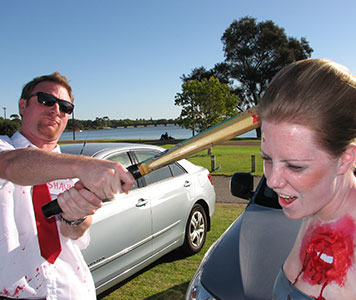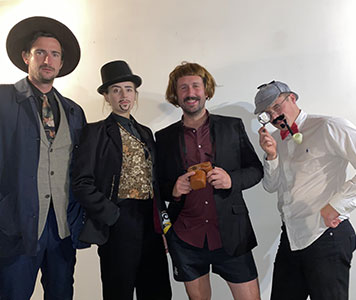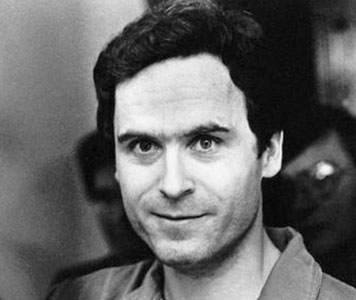 Photo
Title
Price
Qty
Add To Cart

Click to enlarge

Download

-

Dinner Edition


Serial Slaughter 4 to 8 Players
$85.00

Click to enlarge

Download

-

Premium Edition


Serial Slaughter 2 to 15 Players
$120.00

Click to enlarge

Download

-

Premium Edition


Serial Slaughter 2 to 60 Players
$140.00

Click to enlarge

Download

-

Premium Edition


Serial Slaughter 2 to 120 Players
$160.00

Click to enlarge

Download

-

Virtual Edition


Serial Slaughter 2 to 15 Players
$120.00

Click to enlarge

Download

-

Virtual Edition


Serial Slaughter 2 to 60 Players
$140.00
Shipping Details:
Shipping on all orders within Australia is $0.00. Shipping outside Australia is $0.00.
The Story
Setting: Ted Bundy's house.
Story: Ted Bundy is one of the world's most successful serial killers. That is until now because he has met his match and has been brutally murdered in his own house. This is a story of love, jealousy, baby farming and werewolves. Based at a dinner party in Ted Bundy's house, you might not want to ask "what's for dinner?" Join history's best and most creative serial killers. Enjoy stepping into a new world of crime and murder!
Adult Themes: Umm, duh!
Costumes: Guests come as police, prisoners, doctors, wounded victims, corpses and any other murderer, horror or death themed costume.
How Do Costumes and Characters Work? To make the game as easy as possible to organise, your guests do not need to dress as any particular character. The costume they wear does not affect the character they play in the murder mystery. You allocate the murder mystery characters on the night of the party. This means that if guests are sick and can't make it or extra friends want to come then there is no impact on running the game.
Normal Use: 18+ only party suggested
Group Size: 4 to 8, 2 to 15, 2 to 60, 60 to 120.
Would you look in Ted Bundy's fridge? That beer has a nice head on it!
Please check if your game is
Downloadable

or

Boxed

when you order.
What is the difference between
Download

and

Boxed

Games?
Download

- You receive the high quality materials electronically. You download and print the materials yourself and save money. Nothing is posted to you.

Boxed

- Your game is printed and packaged by us, saving you time and providing the highest quality materials. We post to you anywhere in the world.
What different types of games do you have?
Download

- You download and print, nothing is posted to you.

Boxed Game

- A pre-printed boxed game is posted to you.

Premium Edition

- Interactive, super fun group murder mystery party game for 6 to 120 people. Requires a friend or professional host.

Dinner Edition

- Perfect for a small group of 4 to 8 people over dinner. The host can also play.

Virtual Edition

- Specially designed to play online over Zoom or Teams etc. Requires a friend or professional host.

Mega Edition

- Specially designed for very large groups of greater than 120 people. Requires a friend or professional host.

Theatrical Edition

- A scripted murder mystery that is delivered as a performance in front of a group of any number of people. Requires 10 to 20 volunteers.

Time Travel

- A non-murder game that takes you to a particular time in history. Requires a friend or professional host.

Kid's Edition

- A non-murder game for kids. Requires a friend or professional host.
What is the difference between Dinner Edition and Premium Edition Games?
Premium Edition:
Premium Edition games are the ultimate in interactive fun. They are a full night of entertainment and require a host (friend or hired) to run them. Your guests work in teams to solve the crime and there is heaps of mingling and sleuthing fun. If you want an amazing night your friends will remember for ever, Murder In A Box Premium Edition games are the way to go.
In a Premium Edition game your guests play the characters in the murder mystery story.
Perfect for:

Any event that you want to be amazing
Staff, Christmas, work, birthday party
Super fun party
Conference
Fundraiser
Team building
Hen's night
What you get in a Premium Edition murder mystery game (depending on size):

The Murder In A Box – box

(not in download)

Contents sheet
15 to 120 electronic invitations to print or email before the event
The Presenter's Handbook
The Full Story
Extra games
Decoration suggestions sheet
15 to 120+ character name badges
Evidence that is hidden and found
Planning a fantastic party guide book
60 to 120 cryptic clues
The full story
A pair of handcuffs

(not in download)

2 props to be used - Such as a secret letter
Special awards
Sleuthing materials
8 to 18 pens

(not in download)

8 to 18 sets of team directions
Welcome sign
Information about venue set up
Dinner Edition:
Dinner Edition games are very easy to run. They do not require a hired host and are great to enjoy around a dinner table.
In a Dinner Edition game your guests play investigators that are trying to solve the crime. The characters your guests wear on their badges are not directly mentioned in the story and so you have lots of flexibility with how many people play the game.
Perfect for:

Any low key event
Dinner party
Dinner at a restaurant
Backyard party
At work while other things are going on
What you get in a Standard Edition murder mystery game:

The Presenter's Handbook
8 name badges
A Suspect's Sheet for each player
8 round 1 scripts
8 round 2 scripts
8 round 3 scripts
The full story
Our Murder Mystery Party Games
Click a game to learn more
Boxed and Download - Adult murder mystery games
Download Only - Adult murder mystery games
Teenager murder mystery games
Adult and teenager party games (no murder)
Kids' party games (no murder)
Mini Murder Mystery Party F.A.Q.
How much do murder mystery games cost? Click the game images above to see prices.
Do we need a host? It is up to you. You purchase a game from us then run it yourself or hire a murder mystery host.
Are you available on...? Click hire a murder mystery host. Contact the hosts to check their availability.
Does everyone get a character? Sure do.
What do I get? Our murder mystery games contain between 100 and 300 items to make your party fabulous.
Can I ask questions? Yes please. Click "Contact Us" above.
Our copyright rules short version
If you are making money from the game e.g. selling tickets to a show, using it for commercial clients, using it as a training tool for paying participants, you may only use the game once.
If you are NOT making money from the game e.g. holding a party for yourself or your work, you may use the game as many times as you like.
We want to help you make a profit from our games. Purchase a game, sell tickets and make money.
The amazingly terrible serial killers we use in our murder mystery games:
Ted Bundy - 1946–89, An American serial killer and necrophile who murdered 30 women. He decapitated his victims and kept their heads in his apartment. He escaped from prison and committed 3 more murders. Died from electrocution.
Charles Manson - 1934–2017, Manson's followers committed 9 murders although Manson himself never participated. He believed the murders would help start a race war. Manson became an emblem of insanity, violence, and the macabre. Died in prison aged 83.
Katherine Mary Knight - 1955-, Stabbed her husband 37 times, skinned, decapitated him and cooked him with vegetables for his children. The head was found cooking in a pot with vegies. Police said the children wouldn't eat the vegetables. Knight is serving life without parole.
Anna Maria Zwanziger - 1760–1811, A German killer who poisoned her employers, then nursed them back to health to gain their favour. She killed 4 people including a baby. She said, "it is a good thing I'm to be executed, as I don't think I can stop". Died from beheading aged 51.
Jane Toppan - 1857–1938, The nurse poisoned 31 people and laid in bed with them as they died. She moved in with the Davis family after their mother's death. Soon, the father, 2 daughters and her foster sister were dead. Toppan died in a mental institution aged 81.
Sarah Jane Makin - 1845–1918, An Australian baby farmer who with her husband caused 12 deaths. They responded to adoption notices and accepted payment for adopting. A plumber in a former Makin home found the remains of two infant children. Sarah Makin was paroled in 1911.
John Makin - 1845–93, With Sarah Makin were Australian baby farmers that killed the children and deceived the parents to continue receiving money. The bodies of twelve infants were recovered and police tracked the Makin's down as they kept moving. Died from hanging.
Edward "Ned" Kelly - 1854–80, An Australian bushranger and police murderer. As a boy, Ned saved a boy from drowning and was awarded a green sash. He was wearing this sash under his armour in the final battle. Kelly never said "such is life". Died from hanging.
Jeffrey Dahmer - 1960–94, Known as the Milwaukee Cannibal he murdered and dismembered 17 men and boys. Many murders involved necrophilia, cannibalism, and the permanent preservation of body parts. Dahmer was beaten to death by a fellow inmate.
Simo Häyhä - 1905–2002, A Finnish sniper dubbed "White Death" because of his snow camouflage. He is the deadliest sniper in history with up to 705 kills. He lost his left cheek and jaw after being hit by an enemy bullet but recovered. Died in a nursing home aged 96.
Tillie Klimek - 1876–1936, She pretended to have dreams, predicting the dates of death of her victims. In reality, she was scheduling their deaths. She murdered 3 husbands, several relatives, neighbours and a dog that annoyed her. Died in prison aged 59.
Catherine Birnie - 1951–, Murdered 4 women with David Birnie and tried a fifth. The final victim escaped and said she had watched Rocky and had hidden a drawing. Police found her drawing, as well as Rocky in the VCR. Sentenced to life in prison without parole.
David Birnie - 1951–2005, With Catherine Birnie murdered 4 women in Perth. David left school to become a jockey. He harmed the horses and while naked, broke into the room of an elderly lady with stockings over his head. Completed suicide in prison aged 54.
Futoshi Matsunaga - 1961–, A Japanese serial killer of 7 victims with Junko Ogata. Matsunaga would form relationships and to gain access to their money then murder them. The pair dismembered and boiled their victims and the remains were put out to sea. On death row.
Junko Ogata - 1962–, Originally a gentle person but changed after dating Futoshi Matsunaga. She became cruel under his influence and killed 7 people. Their victims included her parents, their 2 children, Ogata's nephew and niece. Sentenced to life in prison.
John Bender Snr. - The Bloody Benders were a family of killers in Kansas from 1871-73. Victims would stay at their B&B before being poisoned or struck with a hammer. 12 travellers were killed before their crimes were discovered. The family fled and were never apprehended.
Elvira Bender - 1815-?, A German migrant so unfriendly her neighbours called her a "she-devil". Colonel York visited the Inn looking for his missing brother after a woman was threatened with knives by Elvira. She said "the woman was a witch who had cursed her coffee".
John Bender Jnr. - 1845-?, Neighbours claim that John Jnr. and Kate were married not siblings. Guests were asked to sit in front of a curtain for dinner. When a guest refused, the bender men emerged from behind it. The customer quickly left, a move that saved their life.
Kate Bender - 1848-?, While at dinner, Kate would distract a guest and John Bender Snr. or Jnr. would hit them with a hammer. The victim's throat was then cut by Kate or Elvira. The body was dropped through a trap door, robbed and buried in the orchard.
Martin Bryant - 1967–, Murdered 35 people in Port Arthur in 1996. Bryant was always troubled. He had a relationship at 19 with Helen Harvey 54, who died when he steered her into traffic in 1992. His father suicided and the person that could control him was lost.
Martha Needle - 1863–94, Poisoned her husband, 3 children and brother-in-law. She collected insurance but spent the money on an elaborate family grave. Police set a trap and she served a cup of tea with enough arsenic to kill 5 people. Died from hanging aged 30.
Jean Lee - 1919–51, Lee was the last woman executed in Australia. She was active in William Kent's murder and was sentenced to death. Lee was 1 of 2 women executed in Australia during the 20th century, the other being Martha Rendell in 1909. Died from hanging.
Martha Rendell - 1871–1909, Murdered her partner's 3 children by swabbing their throats with hydrochloric acid. Witnesses said she obtained pleasure from the suffering. Buried in Fremantle in the same grave as serial killer Eric Cooke. Last woman hanged in WA aged 38.
Ted Kaczynski - 1942-, The Unabomber (University & Airline Bomber) was a mathematics professor. From 1978-95, he killed 3 people in a bombing campaign targeting people involved with modern technology. His manifesto was published by the New York Times. Still in prison.
The Dingo - 1974–85, The death of Azaria Chamberlain was Australia's most publicised trial. Lindy Chamberlain was accused but said "a dingo took my baby". Uluru ranger Derek Roff said dingoes were cheeky, approaching and biting people. The dingo died of old age.
Bradley Robert Edwards - 1969-, The Claremont Serial Killer, this athletics coach dropped a kimono in 1988 at a bungled attack. New DNA technology led to Edwards being convicted of two murders and the disappearance of a third woman in Perth.
Yvonne Gladys Fletcher - 1922–, In the 50s there were a spate of thallium poisonings. Suspicions were raised when Fletcher's second husband suffered the same illness that killed her first husband. Police exhumed Fletcher's first husband and found thallium (rat) poison present.
Jack the Ripper - Unidentified killer, infamous for murdering 5 female prostitutes in the slums of London in 1888. Their throats were cut prior to abdominal mutilations. The removal of internal organs led to suggestions the killer had surgical knowledge. Death unknown.
Amelia Dyer - 1837–96, Murdered 400 infants in a 20 year period in Britain. She was a baby farmer that adopted infants for money. She was caught when an infant corpse was found in the Thames, with evidence leading to her. Died from hanging aged 69.
Temüjin - 1162-1227, After founding the Mongolian Empire was proclaimed "Genghis Khan". This genocidal ruler conquered most of Eurasia with a death toll of 40 million. Approximately 1 in every 200 people is a direct descendant of Temüjin. Cause of death unknown.
Dagmar Overbye - 1883–1929, Murdered 180 children, including her own during a 7 year killing spree as a baby farmer. Police were alerted by a parent and they found baby clothes, bodies and bones in the stove, loft and underground. Overbye died in prison aged 46.
Anders (Behring) Breivik - 1979-, A terrorist who committed the 2011 Norway attacks. He killed 8 people with a van bomb, then shot dead 69 participants of a summer camp on the island of Utøya. Diagnosed with narcissistic personality disorder, Breivik is currently incarcerated.
Darya Nikolayevna Saltykova - 1730–1801, The Russian killed up to 138 of her serfs, mostly girls. Catherine II tried her and she was chained in public for 1 hour with a sign around her neck. Saltykova spent life in the Ivanovsky Convent in Moscow. Died in the convent aged 71.
Adolf Hitler - 1889-1945, German dictator, who initiated WWII that lead to 58 million deaths. The Führer developed the "final solution" or the genocide of Jews et al. Hitler never killed personally in WWII but killed enemy soldiers in WWI. Died by suicide.
Lavinia Fisher - 1793–1820, The first female serial killer in the US. With her husband they murdered men staying in their hotel. She would send them to their rooms with a cup of poisoned tea. Her husband would make sure they were dead by stabbing them. Died from hanging.
Iosif (Joseph) Dzhugashvili - 1878-1953, Changed his surname to Stalin as it means steel in Russian. A dictator from 1929-53 responsible for 23 million deaths. He ruled by terror, and Russians were executed or sent to forced labour camps called Gulags. Died of a cerebral haemorrhage.
Velma Barfield - 1932-84, The first woman executed in the US when the death penalty was reinstated in 1976. The 6 murders included her mother and she poisoned her boyfriend with arsenic rat poison when he caught her stealing from him. Died by lethal injection aged 52.
William Unek - 1929-57, African police constable that killed 57 people in 2 killing sprees. In his first he killed 21 people with an axe in 1.5 hours. In the second he shot, stabbed, burned and strangled 36 victims in 12 hours including his wife. He died from wounds.
Hélène Jégado - 1803-52, This French killer poisoned 36 people she didn't like including her sister and a priest. Dubbed "The Pious Poisoner", she aroused suspicion by claiming her innocence immediately after the death of a servant. Death by guillotine aged 49.
Pol Pot - 1925-98, Cambodian communist led the Khmer Rouge guerrilla army which resulted in 1.7 million deaths from starvation, execution, disease or overwork. The Pol Pot regime is seen as one of the most barbaric and murderous. Died of heart failure in his sleep.
Suzan Carson - 1941-, The San Francisco Witch Killers, Carson and her husband committed 3 murders. Self-described "vegetarian Muslem warriors", their goal was to exterminate "witches" and they killed their first victim for "draining Carson's health and yogic powers."
Ivan Milat - 1944-2019, The backpacker murders were a run of killings in NSW Australia. The bodies of 7 backpackers aged 19 to 22 were discovered in the Belanglo State Forest. Milat spent a long time with the victims continuing to stab and shoot them post mortem.
Elizabeth Báthory - 1560-1614, Hungarian noble known as "The Blood Countess" tortured 650 servant girls to death. Mutilated dead, dying and imprisoned girls were found at her home. Literature compares her to Vlad the Impaler the inspiration for Count Dracula. Died in prison.
Eric Edgar Cooke - 1931-64, He terrorised the city of Perth committing 8 murders. Crimes included hit-and-runs, axe attacks, strangling, necrophilia and shootings. Died in Fremantle Prison and buried in the same grave as child killer Martha Rendell, who was hanged in 1909.
Clementine Barnabet - 1894-1923+, An African-American killer of 35 people. She committed familicide with an axe then cut off the heads and lay their bodies in bed together. At 18 she was sentenced to life in prison. In 1923, she escaped from prison and was never seen again.
Dr Harold Shipman - 1946-2004, This English GP is one of the most prolific serial killers in history. In 2000, a jury found him guilty of 15 murders of patients but the accurate number is suspected to be 250. Sentenced to life but hanged himself in his cell.
Juana Barraza - 1957–, A Mexican wrestler dubbed "The Old Lady Killer". Many thought the killer to be male, but witnesses described a masculine looking woman so police looked for a transvestite. She strangled 48 elderly women and was sentenced to 759 years in jail.
Boston Strangler - 1931-73, The Boston Strangler is a name given to the murderer (or murderers) of 13 women. Also called "the silk stocking murders" as 8 of the victims were strangled with nylon stockings. Albert DeSalvo confessed but there is doubt that he was responsible.
Tracey Wigginton - 1965–, An Australian with vampiric desire. Wigginton, and 3 others lured Edward Baldock to a park where Wigginton stabbed him 27 times, nearly severing his head. The goal was to enable the drinking of a man's blood. Wigginton spent 11 years in prison.
Moses Sithole - 1964-, All his 38 victims were black females interviewing for positions with his fake charity in South Africa. He would take them to remote fields, and then murder them. They were generally strangled with their own underwear. Incarcerated for 930 years.
Lainz Angels of Death - Austrian nurses Maria Gruber, Irene Leidolf, Stephanija Meyer, & Waltraud Wagner murdered 200 patients by pouring water into the victim's mouth until they drowned. As the elderly often had fluid in their lungs, it was undetectable. All 4 released in 2008.
Bradley John Murdoch - 1958-, Murdoch murdered English backpacker Peter Falconio and attempted to kidnap Joanne Lees. After flagging down his victims on the Stuart Hwy NT, he shot Falconio and tied up Lees. Lees escaped and raised the alarm but Falconio has never been found.
Madame de Brinvilliers - 1630-76, Under the guise of "charity" work she poisoned 50 people in French hospitals with arsenic. A rumoured relationship with her father and brothers also led to her poisoning them. She died at 46 via decapitation and was burnt at the stake.
Cleveland Torso Murderer - Also known as the Mad Butcher of Kingsbury Run, this killer often decapitated and sawed limbs and torsos into various configurations. 12 known victims in 2 cities joined by a train line. Police went undercover on trains but the mystery was never solved.
Casey Anthony - 1986–, Casey's grandmother Cindy, had not seen 2yo Caylee and said Casey's car smelt like a dead body. Casey told detectives Caylee had been kidnapped and she had been trying to find her. Caylee's remains were found in a bag near the family's house.
David Koresh - 1959-93, Koresh lead the "Branch Davidians" in Waco, Texas. A 2 month siege by the FBI over weapons stockpiling ended when their building caught on fire. Koresh and 19 others were shot that day by an unknown shooter. 4 agents and 82 Branch Davidians died.
Storm Brooke - 1967–, While at Brisbane's Boggo Road jail, Brooke repeatedly stabbed fellow prisoner Debbie Dick with a BBQ fork. Brooke was given life, but in 1993 broke out of jail using a rope made of sheets. She scaled a 5m fence and spent two months on the run.
Shoko Asahara - 1955-2018, Founder of the Japanese doomsday-cult group Aum Shinrikyo (Aum Supreme Truth). Asahara masterminded the 1995 sarin-gas attack on the Tokyo subway. 13 people died and thousands more were effected. Executed by hanging with 6 other cult members.
Gwendolyn Graham - 1962–, Along with her lover Cathy Wood she killed 5 elderly women in the nursing home where they both worked. The couple turned the selection of victims into a game, choosing them by their initials to spell M-U-R-D-E-R. Serving life in prison.
Elfriede Blauensteiner - 1931–2003, The "Black Widow" was an Austrian serial killer that killed 10 people. She would date rich elderly men and poison them then gamble away the money left to her in their fabricated wills. She died in prison from a brain tumour aged 72.
Elizabeth Woolcock - 1848–73, Murdered her husband Thomas, with mercury. She is the only woman executed in SA. It is believed she was innocent, and Thomas died of tuberculosis exacerbated by mercury-based medicine prescribed by his doctor. Died from hanging aged 25.
Waneta Hoyt - 1946-98, Hoyt was sentenced to life in prison after the murdering 5 of her 6 children between 1965 and 1971 in New York. Initially, the deaths were assumed to be a case of SIDS but smothering turned out to be the cause. Died at 52 of pancreatic cancer.
Belle Gunness - 1859–?, Killed 40 people including family and suitors from lonely hearts ads. When her home burned down, bodies were found including a decapitated woman with Gunness's dentures. The fate of Gunness and the identity of the headless woman is unknown.
Delphine LaLaurie - 1787–1849, A New Orleans socialite, she was responsible for the torture and deaths of her black slaves. Police discovered them when her house was set on fire by a cook that was chained to the stove. She escaped to France with her family and died aged 62.
Amelia Sach - 1873–1903, Along with Annie Walters were known as The Finchley Baby Farmers. The duo would take in babies for a fee then kill the child with chlorodyne (a medicine containing morphine). Sach and Walters were both hanged on 3 February.
Annie Walters - 1869–1903, Along with Amelia Sach were known as The Finchley Baby Farmers. The duo would take in babies for a fee then kill the child with chlorodyne (a medicine containing morphine). Sach and Walters were the only modern women to receive a duel hanging.
Kathleen Folbigg - 1967-, Australian murderer of her 4 children. An investigating detective was hampered by his belief that women don't kill their children but Mothers commit 55% of child murders. The murders ended when her husband found her diary detailing the killings.
Enriqueta Martí - 1868-1913, This Spanish killer, prostituted children before murdering them. She was a witch-doctor using remedies made from children. She obtained one child after the mother let her hold him and then she ran off with the child. Lynched in prison.
Theresa Knorr - 1946-, Knorr tortured her kids by beating, force feeding, burning with cigarettes and throwing knives at them. She shot one daughter who recovered but later stabbed her then set her on fire. She locked a second child in a cupboard who died of dehydration.
Gesche Gottfried - 1785–1831, Murdered her parents, 2 husbands, her fiancé, children, friends and her land lady. She suffered from Munchausen by proxy and used a rat poison called "mouse butter" which is arsenic mixed in animal fat. Died from decapitation aged 43.
Mao Zedong - 1893-1976, The founder of the People's Republic of China. Chairman Mao organised for "counter-revolutionaries" to be publicly executed or sent to "reform through labour" camps where they perished. Credited with 78 million deaths. Died of a heart attack.
Hideki Tojo - 1884-1948, Prime Minister of Japan during WW II. Responsible for ordering the attack on Pearl Harbor, that directly lead to 2,467 deaths. The war which followed lead to 5 million deaths. Tojo was sentenced to death for war crimes and hanged.
Lizzie Borden - 1860–1927, Suspected of the axe murder of her father and stepmother. A witness heard her laughing near the deceased. Borden was acquitted but no other suspect was tried. The murders remain a topic in American pop culture. Died from pneumonia aged 66.
Leopold II of Belgium - 1835-1909, "The Butcher of Congo" amassed a fortune by exploiting the Congo. Abuses included forced labour of the native population, beatings, widespread killings, and frequent mutilation. Death toll estimates are 10 million. Died of a brain haemorrhage.
"Patty" Cannon - 1760-1829, A slave trader that kidnapped free blacks and fugitive slaves to sell into slavery in the South. She confessed to 24 murders and 4 bodies including 3 children were found on her property. Died in prison while awaiting trial.
John Bunting - 1966-, Ringleader of the Snowtown "bodies-in-barrels" murders. Bunting convinced 4 other killers that the victims were paedophiles, homosexuals, or "weak". Once murdered the group stole their welfare payments. 8 of 11 bodies were found in plastic barrels.
Aileen Wuornos - 1956–2002, Between 1989–90, this American prostitute turned serial killer, murdered seven johns. A minor traffic accident in one her victim's cars led to her arrest and eventual 2002 execution. Died from lethal injection aged 46.
Robert Joe Wagner - 1971-, Befriended by John Bunting, the ringleader of the Snowtown "bodies-in-barrels" murders in 1991. Bunting encouraged Wagner to assist in the various murders. 8 bodies were found stored in plastic barrels in an old bank vault and 3 others were buried.
Charlene Gallego - 1956-, With her husband Gerald, they kept women as slaves, torturing and murdering them in Sacramento from 1978-80. 10 victims overall, some were shot, one buried alive, others strangled or beaten to death. She was released from prison in 1997.
Robert Francis Burns - 1840-83, Irish Australian responsible for 8 murders. One victim was found with the top of his skull having been smashed in by a blow from a hammer. He also decapitated, poisoned and burnt his victims usually for money. Hanged at Ararat Prison.
Bertha Gifford - 1872-1951, She was a nurse for her sick neighbours, and a total of 17 people died in her care. Given the amateur use of arsenic for medical use at the time, no one can be certain that she purposely killed all 17. Died in a mental institution aged 79.
Pedro Alonso Lopez - 1948–, Colombian killer was sentenced for killing 110 girls, but claims to have killed more than 300 girls across South America. "The Monster of the Andes" was released from a psychiatric hospital in 1998 for good behaviour. His whereabouts are unknown.
Paula Denyer - 1972-, The "Frankston Serial Killer" murdered 3 young women in Melbourne. This transgender killer wrote "Donna you're dead" in blood on one victim's wall and strangled, stabbed, cut the throat and carved a criss-cross pattern into the chest of another.
Bandali Debs - 1953-, Australian and father of 5, murdered 2 Police officers and 2 teenagers. Was caught through DNA and is portrayed in the movie Underbelly Files. Debs has undertaken life skills, computer training and is employed as a prison carpet cleaner.
Christine Malèvre - 1970-, A euthanasia advocate and nurse who killed 30 patients. She claimed assisted suicide due to terminal illness and stated "I helped people to end their suffering and depart in peace. I did not kill. I am not a criminal." Spent 10 years in jail.
Peter Dupas - 1953-, Murderer of 7 women, his signature was to remove the breasts of his victims. Described as "the most evil predator" this Australian killer showed no remorse. Dupas married his mental health nurse in 1987 inside Castlemaine jail. They later divorced.
Dana Sue Gray - 1957-, This shopaholic killed 3 elderly women by stabbing or strangling before being arrested in 1994. She was caught after a fourth intended victim survived and identified her. Gray committed the murders to support her spending habits. Incarcerated.
Leonard Fraser - 1951-2007, Murdered 4 people and police found the ponytails of 3 victims in his flat. He confessed to a fifth murder of a girl that had been missing for 5 years but the girl was alive and secretly living with her boyfriend. Died of a heart attack.
Marianne Nölle - 1938-, This German nurse killed patients in her care using antipsychotic drugs from 1984-92. Police think she killed a total of 17 and attempted 18 other murders, but she was only convicted of seven. She is still serving her life sentence.
John Wayne Glover - 1932-2005, In 1989-90, the "Granny Killer" killed 6 elderly women. Glover stated he wanted to stop killing, but could not. His wife and children were totally unaware of his offences as he could quickly return to normal life. Completed suicide by hanging.
Caroline Grills - 1888–1960, This Australian killer murdered 4 family members using rat poison and was in her 60s before she was finally arrested. She delighted her visitors with tea, cakes and biscuits while poisoning them in the process. Died from peritonitis in prison.
Butcher of Mons - Dubbed the "The Butcher of Mons" due to the dismemberment the victim's bodies. Remains of 5 victims were left in garbage bags and the mutilation of the bodies made identification difficult. Despite intense media interest this Belgian case is unsolved.
Jeanne Weber - 1874-1918, Jeanne's killing spree included strangling her 2-year-old sister, an 18-month-old, her sister's children, and her own child. Surprisingly she was found not guilty and sentenced to live in an insane asylum where she hanged herself at age 44.
Long Island Serial Killer - An unsolved American mystery, this serial killer has murdered up to 16 people over 20 years and the bodies were dumped on Long Island. Police believe the killer may be associated with law enforcement as this explains how they have avoided capture.
Faye Copeland - 1921-2003, Faye aided her abusive husband Ray by helping kill at least 5 drifters via a shot to the back of the head. This grandmother used the clothing of her victims to make winter quilts to snuggle under. Fay died at 83 on death row.
Tiago Gomes da Rocha - 1988-, Brazilian security guard who has claimed to have killed 39 people. He approached his victims on a motorbike and shouted "robbery" before shooting them. However, he never took anything. Convicted of 11 murders and sentenced to 25 years in prison.
Carol M. Bundy - 1942–2003, Bundy met Doug Clark and they started committing murders. Bundy had an affair with Jack Murray and she mentioned what she and Clark were doing. Murray threatened to tell the police, so she shot and decapitated him. Died in prison aged 61.
Mick Taylor - The main antagonist of the Wolf Creek film series, this fictional character is a calculating, manipulative, psychotic, traitorous, heartless, and extremely sadistic man who kidnaps backpackers in the Australian Outback and brutally tortures, sexually assaults, and mutilates them.
Dorothea Puente - 1929–2011, An American serial killer that ran a boarding house and murdered elderly boarders before cashing their Social Security. She murdered and buried 9 confirmed and 6 possible other victims. Died in prison aged 82.
Daisy de Melker - 1886–1932, Poisoned 2 husbands for life insurance and her only son for reasons unknown. The police exhumed the bodies and the first was in a state of preservation, which is a sign of arsenic poisoning. She is the second woman to be hanged in South Africa.
Raymond John Bailey - 1932-58, 3 people on a car trip from Alice Springs to Adelaide never arrived. Aboriginal trackers found the bodies and all had been beaten and shot. Bailey had killed the 3 for petrol money while his wife and son were in his car. Hanged in Adelaide jail.
Genene Jones - 1950–, A nurse that killed 60 children. She used injections to cause illness, then, would save the child to gain praise. Jones was sentenced to 99 years but due to mandatory parole authorities keep charging her with new murders to prevent her release.
Joseph Schwab - 1961-87, This German tourist went on a killing spree murdering 5 people in Australia in 1987. The Kimberley Killer used a high-powered rifle to shoot dead his victims. He killed 2 locals and 3 tourists before police killed the gunman.
Francisca Ballesteros - 1969–, A Spanish serial killer who poisoned her baby. 14 years later, she killed her husband and daughter because she met a man on the Internet. She then poisoned her son who fortunately survived. Sentenced to 84 years in prison.
The Doodler - The Doodler murdered 14 men in San Francisco from 1974-75. He made sketches of his victims prior to their encounters and ultimate stabbing. Police know the identity of the killer but 3 survivors refused to testify and so the Doodler never faced justice.
Marie Fikácková - 1936–61, A Czechoslovak serial killer of 10 babies as a nurse. She had paedophobia (hatred of children) during her menstruation periods. She was found to be sane, but had depression and uncontrollable outbursts of anger. Died from hanging aged 24.
Carl "Coral" Watts - 1953-2007, American killer dubbed "The Sunday Morning Slasher". He had antisocial personality disorder and murdered 80 people. Police did not realise they had a serial killer as he killed in different states and Canada. Died of prostate cancer in prison.
Anu Singh - 1972–, Killed her boyfriend, Joe Cinque by injecting him with heroin. Singh told friends she wanted to kill people including Cinque, and her ex. After injecting Cinque, she called an ambulance but gave a false address. She served 4 years in prison.
Mikhail Novosyolov - DOB Unknown, Soviet killer and necrophile. He killed 22 people in Russia and Tajikistan. Police did not suspect Novosyolov for a long time, since he committed crimes in different settlements. He had 3 passports which allowed him to impersonate others.
Eugenia Falleni (Harry Crawford) - 1875–1938, Falleni presented herself as Harry Crawford, met Annie Birkett and was married. It is unclear if Birkett knew her husband's gender. Birkett went missing and Crawford was imprisoned but pleaded innocence. Died when struck by a motor vehicle.
Yoo Young-Chul - 1970-, South Korean cannibal murdered 26 people. Yoo burned 3 and mutilated at least 11 of his victims, admitting he ate the livers of some. He killed prostitutes and rich old men. He resented the rich due to his childhood poverty. On death row.
Beverley Allitt - 1968–, An English nurse and serial killer who murdered 4 children and harmed 9 others over 59 days in 1991. She gave large doses of insulin or injected air bubbles into children as young as seven weeks. Allitt is in a mental institution in Britain.
Abdullah Shah - 1965–2004, Killed more than 20 people, including his wife. 9 people testified against him, including another wife he tried to set on fire. Many victim's bodies were found in a well. Executed by gunshot to the back of the head.
Kristen Gilbert - 1967–, The "Angel of Death", Gilbert committed 4 murders as a nurse. She killed patients by injecting them with epinephrine. She would then respond to the coded emergency, often resuscitating the patients herself. Gilbert is serving a life sentence.
I-70 Killer - An unknown person killed 6 store clerks in 1992 off of Interstate 70 (I-70) in America. The clerks were young, brunette women but Michael McCown was also killed. McCown had a ponytail and was shot from behind so he may have been mistaken for a woman.
Rosemary West - 1953–, With her husband, West murdered 10 women and her 8yo daughter. West said her husband committed the crimes and she wasn't involved. She became the second woman to receive a whole life sentence in Britain, the first was serial killer Myra Hindley.
Sewage Plant Killer - A series of unexplained male adolescent murders in Germany in the 1976-83. Victims were tied up and then thrown in sewers. Undetected for a long time in Frankfurt's sewerage system, the advanced decomposition made identification difficult.
Amy Archer-Gilligan - 1868–1962, For insurance money, Archer poisoned at least 5 people but there were 48 possible murders at her nursing home. Police found she had forged her husband's will and was sending residents to buy arsenic. Died in a mental institution aged 88.
Eddie Leonski - 1917–42, An American soldier that murdered 3 women in Melbourne. Dubbed "the Brownout Strangler", due to wartime low lighting. He was fascinated with female voices and wanted to "get at their voices". Sentenced under US law but hanged in Melbourne.
Myra Hindley - 1942–2002, "The Moors Murderer", Hindley carried out 5 murders of children in England between 1963–65 with her lover Ian Brady. Hindley was caught when her brother in law witnessed Brady killing a boy with an axe. Hindley died in prison at age 60.
Joachim Georg Kroll - 1933–91 German killer and cannibal of 14 people. A neighbour asked if Kroll knew why their drain was blocked, he replied, "guts". Police found parts in the fridge, a hand cooking in a pan and "guts" stuck in the drain. Died of a heart attack in prison.
Nannie Doss - 1905–65, An American widow who went through 5 husbands before being charged with a slew of murders including those of her 5 husbands, a mother-in-law, her sisters, 2 of their children, and her own mother. Died in prison from leukemia aged 59.
Yavuz Yapıcıoğlu - 1967-, With the highest victim count in Turkey and nicknamed "The Screwdriver Killer", he murdered 40 people. In 1994, he stabbed 3 people to death after one said "good morning". While on a bus trip he killed a passenger then chased and killed a witness.
Major Thomas Ferebee - 1918-2000, Was the bombardier of the B-52 the Enola Gay (named after the pilot's mother). Ferebee dropped Little Boy, an atomic bomb, on the Japanese city of Hiroshima. 75,000 people died instantly and thousands more following the blast. Died aged 81.
Kim Il Sung - 1912-94, First Supreme Leader of North Korea. In 1950 he authorised the invasion of South Korea, triggering the Korean War which resulted in 36,914 deaths. Through mismanagement and famine approximately 1.6 million citizens died. Died of a heart attack.
Mayor Antonio Sanchez - 1949–, The former mayor of Calauan, Philippines was the mastermind of the murders of Mary Sarmenta and Allan Gomez. Sanchez was infatuated with Sarmenta and she was brought to him as a "gift" by his henchmen. Sanchez was sentenced to 360 years in jail.
Ahaya Secoffee - 1710–83, This farmer believed he could not find peace after death unless he killed 100 Spaniards. He told his sons on his deathbed that he had only killed 86 Spaniards and that they should kill another 14 in his name. Died of natural causes.
William Palmer - 1824–56, The Prince of Poisoners, this English doctor killed his friend, brother, mother-in-law, four infant children and made large sums of money from the deaths of his wife and brother after collecting on life insurance. Executed by public hanging.
Peter Stumpp - 1564–89, German farmer, accused of werewolfery, witchcraft and cannibalism, known as "The Werewolf of Bedburg". This insatiable bloodsucker gorged on the flesh of goats, lambs, sheep, men, women, and children. Death by execution.
Ismail Enver Pasha - 1881-1922, Leader of the 1908 Young Turk Revolution and leader of the Ottoman Empire in both the Balkan Wars and in WW I. One of the principal perpetrators of the Armenian Genocide and held responsible for 2.5 million deaths. Died in battle, decapitated.
© 2023