Bogan Bride and the Billionaire
A bogan marrying a billionaire? Whether you want to spice up a hen's night or find an excuse to get the old wedding dress out again this murder mystery is for you. Join your friends for a beautiful wedding that takes a tragic turn.
Testimonials
The game is fabulous!
---Cassie Grentell​ Brand Director Star 104.5fm---
I really enjoyed hosting Bogan Bride and Billionaire on Zoom the other night. The work group loved it - very funny names and characters, and I liked the events like the wedding.
---Emma Wood---
I ordered the Bogan Bride and the Billionaire wedding for my daughters hens party. So fun!!!!! Firstly the night was fantastic. Absolutely everyone had a great time. We still talk about it now. I bought a heap of dress up clothes from the second hand shop and accessories from the $2 shop. We decorated the garage. The best thing was none of us knew what to expect having a host so it made it even better. Everyone got involved. The very end when our host told us the story the whole party was mesmerised.
---Dianne Johnston---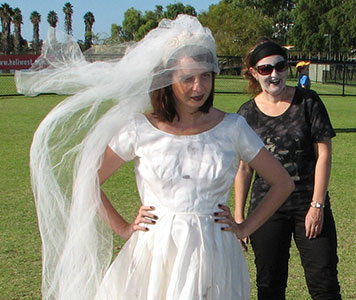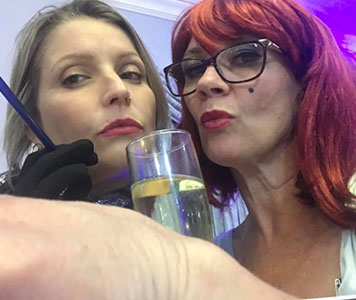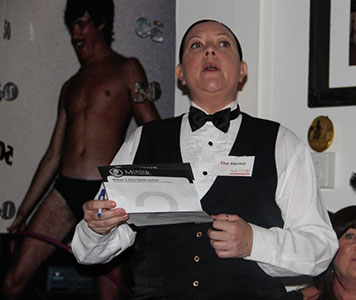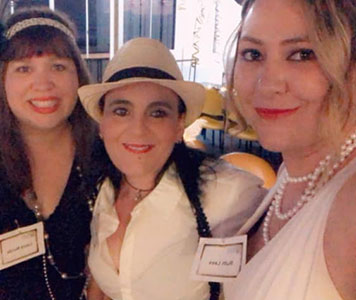 Photo
Title
Price
Qty
Add To Cart

Click to enlarge

Download

-

Dinner Edition


Bogan Bride 4 to 8 Players
$85.00

Click to enlarge

Download

-

Premium Edition


Bogan Bride and the Billionaire 2 to 15 Players
$120.00

Click to enlarge

Download

-

Premium Edition


Bogan Bride and the Billionaire 2 to 60 Players
$140.00

Click to enlarge

Download

-

Premium Edition


Bogan Bride and the Billionaire 2 to 120 Players
$160.00
Shipping Details:
Shipping on all orders within Australia is $0.00. Shipping outside Australia is $0.00.
Setting: A bogan wedding.
Story: We are gathered for the wedding of the century. The billionaire Bill Yonaire, has gone all out to have the most extravagant wedding possible for his wife to be Mel Anoma (soon to be Mel Yonaire). Set at a beautiful wedding we enjoy the union of Mel Anoma to Bill Yonaire until death do us part of course.
Adult Themes: There is mention of drug use, alcohol and other adult themes.
Costumes:
Female: wedding or bridesmaid dress, baby bump, Lycra pants, sash, tiara, bad makeup, slaggy, big hair, big boobs, beauty pageant, bikini, gypsy, drug addict, emo, goth.
Male: tuxedo, suit, tweed jacket, soccer hooligan, thug, punk, fisherman, suave, pimp, slicked hair, gold jewellery, mechanic, drug addict, pilot, sailor.
(Optional) If this will be an all girl party please ask about five guests to come as male characters.
How Do Costumes and Characters Work? To make the game as easy as possible to organise, your guests do not need to dress as any particular character. The costume they wear does not affect the character they play in the murder mystery. You allocate the murder mystery characters on the night of the party. This means that if guests are sick and can't make it or extra friends want to come then there is no impact on running the game.
Normal Use: Hens night, fundraiser or adult party.
Group Size: 2 to 15, 2 to 60, 60 to 120.
Would you share a glass of champagne with the bride after this?
Please check if your game is
Downloadable

or

Boxed

when you order.
What is the difference between
Download

and

Boxed

Games?
Download

- You receive the high quality materials electronically. You download and print the materials yourself and save money. Nothing is posted to you.

Boxed

- Your game is printed and packaged by us, saving you time and providing the highest quality materials. We post to you anywhere in the world.
What is the difference between Dinner Edition and Premium Edition Games?
Premium Edition:
Premium Edition games are the ultimate in interactive fun. They are a full night of entertainment and require a host (friend or hired) to run them. Your guests work in teams to solve the crime and there is heaps of mingling and sleuthing fun. If you want an amazing night your friends will remember for ever, Murder In A Box Premium Edition games are the way to go.
In a Premium Edition game your guests play the characters in the murder mystery story.
Perfect for:

Any event that you want to be amazing
Staff, Christmas, work, birthday party
Super fun party
Conference
Fundraiser
Team building
Hen's night
What you get in a Premium Edition murder mystery game (depending on size):

The Murder In A Box – box

(not in download)

Contents sheet
15 to 120 electronic invitations to print or email before the event
The Presenter's Handbook
The Full Story
Extra games
Decoration suggestions sheet
15 to 120+ character name badges
Evidence that is hidden and found
Planning a fantastic party guide book
60 to 120 cryptic clues
The full story
A pair of handcuffs

(not in download)

2 props to be used - Such as a secret letter
Special awards
Sleuthing materials
8 to 18 pens

(not in download)

8 to 18 sets of team directions
Welcome sign
Information about venue set up
Dinner Edition:
Dinner Edition games are very easy to run. They do not require a hired host and are great to enjoy around a dinner table.
In a Dinner Edition game your guests play investigators that are trying to solve the crime. The characters your guests wear on their badges are not directly mentioned in the story and so you have lots of flexibility with how many people play the game.
Perfect for:

Any low key event
Dinner party
Dinner at a restaurant
Backyard party
At work while other things are going on
What you get in a Standard Edition murder mystery game:

The Presenter's Handbook
8 name badges
A Suspect's Sheet for each player
8 round 1 scripts
8 round 2 scripts
8 round 3 scripts
The full story
Our Murder Mystery Party Games
Click a game to learn more
Boxed and Download - Adult murder mystery games
Download Only - Adult murder mystery games
Teenager murder mystery games
Adult and teenager party games (no murder)
Kids' party games (no murder)
Mini Murder Mystery Party F.A.Q.
How much do murder mystery games cost? Click the game images above to see prices.
Do we need a host? It is up to you. You purchase a game from us then run it yourself or hire a murder mystery host.
Are you available on...? Click hire a murder mystery host. Contact the hosts to check their availability.
Does everyone get a character? Sure do.
What do I get? Our murder mystery games contain between 100 and 300 items to make your party fabulous.
Can I ask questions? Yes please. Click "Contact Us" above.
Murder and Weddings make the perfect memory!
Having a murder mystery party wedding reception is an idea you will never regret. It can provide you and your guests with a fun and unique experience that holds the honour of your special day in hand. It can also prove to provide you with some benefits at the reception that you may not have considered. The Murder Mystery is an ideal replacement for the open bar or dance floor, have some of that too - but add in a little more that helps to bring people together.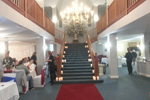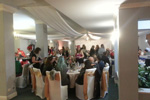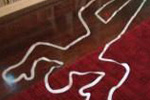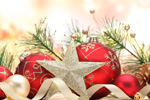 Who plans a murder for their wedding reception?
If the idea of planning a murder mystery for your wedding reception seems out of hand - think about it some more. By hosting a murder mystery party during your reception, you are taking greater control of the day and making sure that your guests truly enjoy their stay, and their dinner. It is unexpected, thrilling and something that can be tailored to suit all ages. It can do wonders for helping bring families together too.
How it can help to bring families together
It may seem like staging a murder may be an odd way to bring families together, but it make sense. The usual wedding reception sees the two families mingle, then separate for hours as they stay at their tables and don't really get a chance to meet. By hosting a Murder Mystery, you can get both sides together and interacting in a way that doesn't involve any family drama - all the drama is pre-arranged. This can help make people more comfortable with each other, it can even help some get over any rivalries or issues they may be having. When you talk to your murder mystery party planner you should make sure to openly discuss the developing dynamics between your two families. Sometimes a bit of ironic fun that highlights ridiculous dynamics lets people get past them faster. If nothing else, it means less people will be sitting at a table just eating and drinking to excess. Murder Mysteries are far more engaging than the dance floor.
Making your special day as memorable as possible
Hosting a murder mystery party wedding reception can truly make your special day memorable. You have to remember that the majority of your wedding pictures will come from the reception. It can change the entire tone of your wedding album if the pictures are themed because the reception was designed to support a murder mystery. It can also add a fun and casual element. If you allow time for people to change out of their finery and into costumes the resulting pictures will be amazing. Some people have even themed the actual ceremony, dressing up like gangsters and molls at the altar and "the shot being fired" as they leave the church to kick off the festivities. It is your day; it should be as fun and memorable as you want it to be.
Just have fun with it and make it your day!
Your wedding is your day to have the world as you want it. You are also responsible for keeping your wedding party entertained and there is no easier way than to host a murder mystery party wedding reception. Talk to one of our planners and we will help you get everything in place for your big day. From choosing the mystery to working out the details with the location, and even helping you with how to announce what will be happening - your murder mystery adviser can help you get it all planned out.
Our copyright rules short version
If you are making money from the game e.g. selling tickets to a show, using it for commercial clients, using it as a training tool for paying participants, you may only use the game once.
If you are NOT making money from the game e.g. holding a party for yourself or your work, you may use the game as many times as you like.
We want to help you make a profit from our games. Purchase a game, sell tickets and make money.
© 2021