Murder mystery party? What a KILLER idea!
A murder mystery party is a fantastic way to have a fun night with friends, colleagues and family! Worried your guests will be bored, or won't mingle? What about your friends that don't know anyone? Murder mystery parties are so much fun your friends will be amazed! Our murder mystery games or a murder mystery dinner is an exciting and unique way to provide your guests with an experience unlike any they have had before. For a killer interactive night of mystery you have found the right place.
We ship free of charge anywhere in the United Kingdom, USA, Canada, Netherlands, South Africa, China, New Zealand or Australia or enjoy an instant download.
With 33 years of experience, we are the best!
Our Murder Mystery Party Games
Click a game to learn more
Boxed and Download - Adult murder mystery games
Download Only - Adult murder mystery games
Teenager murder mystery games
Adult and teenager party games (no murder)
Kids' party games (no murder)
Mini Murder Mystery Party F.A.Q.
How much do murder mystery games cost? Click the game images above to see prices.
Do we need a host? It is up to you. You purchase a game from us then run it yourself or hire a murder mystery host.
Are you available on...? Click hire a murder mystery host. Contact the hosts to check their availability.
Does everyone get a character? Sure do.
What do I get? Our murder mystery games contain between 100 and 300 items to make your party fabulous.
Can I ask questions? Yes please. Click "Contact Us" above.
How does a murder mystery party work?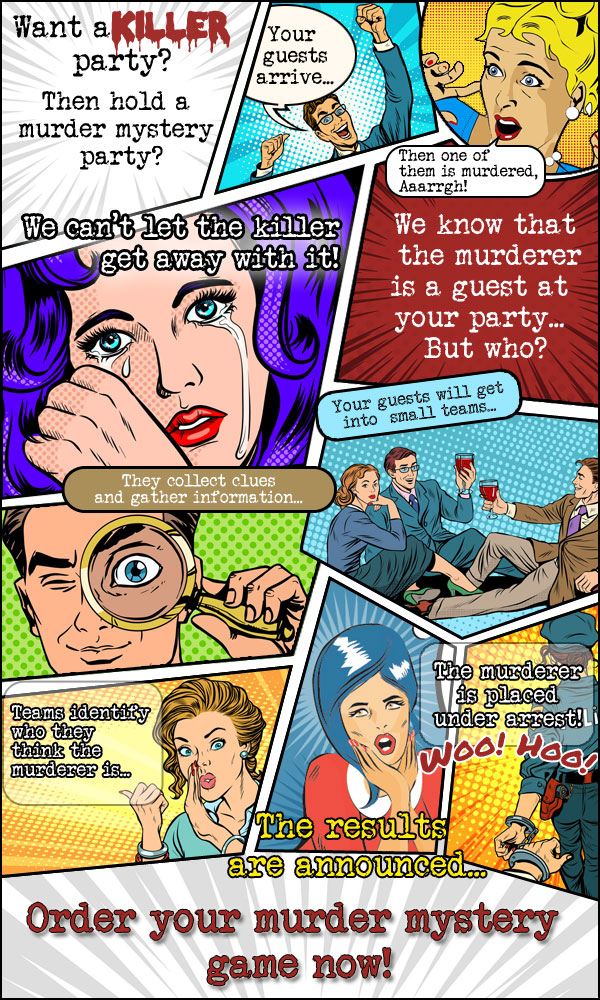 Recent feedback about our murder mystery parties:
Thank you for our fantastic Murder in a Box mystery, we held our Staff Christmas function last year and simply had the best time. It was a great way to build morale, everyone got involved and we all had a great night. I cannot wait to give another theme a go. Great easy to follow instructions that includes everyone! All the thinking is done for you, you can't go wrong!
---Annette Carone---
A big thank you to your amazing product! I used it for my 18th birthday and I didn't get one complaint - everyone agreed that it was much better than a regular get together and we all had a blast.
---Mana---
We had a fabulous evening. The download was very straightforward as were all the instructions. My daughter acted as the host. I worked on the props and costumes turning our home into a blood splattered crime scene that channelled Manson, Dahmer, Bundy, Kemper and Milat for dinner. My guests loved it. The game was complex enough to challenge and not so long as to lose people's attention. This is a very good product and l happily recommend it.
---Amanda Edwards---
I just wanted to thank you for helping to make my 50th birthday murder mystery party a very special and memorable occasion. The dinner went perfectly and Chris is a masterful host who interacts wonderfully and involves the whole company. Again, many thanks for helping with a magical night.
---Sean Dorman's 50th---
We can supply a boxed or downloadable murder mystery kit. Once you have your murder mystery game you can run the kit yourself, or hire a professional host. Your host will start with some fun and then announce a tragic death! In small teams your guests will work together to identify the killer. If you are looking for mystery game ideas you have found the best supplier of games and packages anywhere.
If you don't know how to host a murder then you can relax. We know all there is to know and our games make it super easy.
What are the best murder mystery party games?
Of course this is a very subjective question but with our wide range of murder mystery dinner games you are bound to find a killer theme. Here are some suggestions:

1920s murder mystery party - For your roaring 20s or Great Gatsby murder mystery dinner look no further than our Tracy Gang 1920s murder mystery game. This 20's themed dinner party will have your flappers and gangsters looking sharp in beautiful dressed and pin striped suits while they enjoy the night in the Tracy 1920 Speakeasy.
1960s murder mystery party - The 1960s, what an era! What rounded it off? Woodstock that is what and that is where our 60s night is set. Look out for our new dinner titles as we are currently working on 1950, 1970 disco and 1990 murder mystery parties.

1980s murder mystery party - The 1980s, released the best music and saw the emergence of the electronics age. Donkey Kong, Atari, Baywatch and Mötley Crüe all play a major role in the awesome 1980's dinner game. For an 80s themed murder mystery dinner to die for look no further.

Caribbean holiday murder mystery party - It could be new year's eve, a mardi gras, a cruise off the coast of Cuba or a luau. This Caribbean cruise dinner event may not be one your return safely from. Look out for the pirates, snapping turtles, oh, and the killing on the high seas.

Wild west murder mystery party - A rootin tootin western will lead to all the shenanigans the west has made famous. There will be blood, shootouts, babies, love, weddings and more. Have an outstanding wild west adventure with us.

Mad Hatter murder mystery party - Do you want a Disney night or a Mad Hatter night free from all the hassles? Our Disney theme is a mad romp through Shrek's swamp. Join the mystical creatures today.

Halloween murder mystery party - Spice up Halloween with death and mayhem. This ghoulish theme involves eating placentas, holy water and more devilishness than you can handle.
Christmas murder mystery party game - A Christmas themed celebration, thanksgiving or even a Bad Santa party will definitely get the office going this festive season. Would you kill for a present?
Hollywood murder mystery party - Would you love to kill a celebrity? Well then, a celebrity slaughter will be the perfect vehicle for murder. From Scooby Doo to a red carpet dinner, enjoy death on the silver screen.

Custom murder mystery party - Want your night to be custom made for you? We have a boxed and digital version that is just right.
Star Wars murder mystery party - This fan created game is jam packed full of funny Star Wars references. You will love this romp through space at the Imperial Academy.
How do I find a murder mystery party near me?
No matter where you are in the world you can run one of our superb games. We post our boxed games anywhere in the world free of any postage charges. Our downloadable games can be accessed instantly and anywhere thanks to the power of the web. We have designed our games to be very straight forward to run. No matter where you are, you can hire a host, get a friend or host the game yourself. We are based in Perth Australia but we supply games all over the world.
How do you organise an easy murder mystery party?
You want your murder mystery night to be a simple (simple to organise that is). Also, "I want my mystery game to be the best", I hear you say, and rightly so. If you are going to the effort of organising a dinner game for friends and family then you want your dinner to be outstanding.
Our murder mystery games are postage free printable mystery games pdf and they are a downloadable murder mystery party Australia. I want my mystery party to be a night of mystery. Like we said they are postage free printable mystery games for 6 players if you get the dinner edition.
It is a little different to organise a private murder mystery game at home than to organise corporate murder mystery games but the principles are the same. You need to pick a date and time for the night, select and book a venue, select a theme, purchase a game, send out invites, collect RSVPs, find a host, organise decorations, arrange food, set up the party, arrange music, run the dinner and have a great time.
What about decorations?
Props are not essential but setting up your venue like a 1920s speakeasy or a wild west saloon will definitely help your guests have a great time. Your décor can be as simple as playing a themed movie (with no sound) on the TV or you can go all out with the decorations. When you host a murder mystery night, your game will provide a comprehensive list of easy to organise decorations to make theming your dinner easy and very effective. To make planning straight forward, each game comes with a guide to planning your dinner.
What about the murder mystery party invite?
Our company provides all mystery party invitations in electronic form. This makes it super easy to invite your friends. Just fill in the blanks and then print or email your invitations.
What about murder mystery party characters?
With all the murder mystery games we have set it up so you don't need to allocate characters until the actual event. This is our recommended method and we do this because we know how unpredictable life is. It is very rare that you will run a night where everyone attends. Kids get sick, baby sitters cancel, on the night people forget or come late so you need a flexible method for allocating characters. We recommend that you send out the invites and just give people an idea of what to wear rather than saying "you will be Ruth Less". It is amazing how often the person that can't make it was going to be the murderer or the victim. So in short, you allocate the characters on the night to whoever is there. This guarantees the game will work and your guests will have a celebration.
The other benefit of not pre-allocating characters is that guests can use their flare and get excited about the night. It is for this same reason that we don't recommend making it a surprise party because people love the anticipation and excitement.
Can I hold a virtual murder mystery party?
Of course you can, since Covid-19 has struck, holding a Zoom murder mystery party has become a very popular option. A virtual murder mystery party free from the constraints of a live event will allow you to have a killer time no matter what that annoying virus is doing. Our clients have run remote social distancing parties with players coming from all over the world. One online digital party had players on every continent. If you want to host a virtual murder mystery night online over Zoom our clear instructions will tell you exactly how to do it.
What groups of people does throwing a murder mystery party suit?
Since we started in the murder game in 1990 we have held parties for all the group types you can imagine. You may want a family friendly dinner, an adult party or a kid's or children's party. A murder mystery party for tweens or even an all female murder mystery party.
Whatever type you need, we have you covered. From a family night that is an in home celebration to a corporate or even a non murder party, holiday fun is on its way.
Can I host a murder mystery birthday party?
A mystery birthday party is one of the most common reasons people purchase our games. You can host a murder mystery birthday for kids and about 9 years old is a good age because the kids need to be able to read to gather the information you can extend the fun with a scavenger hunt. A murder mystery birthday party for adults is a classic event and a great way to bring your mixed groups of friends together to mingle.
How do I hold a small murder mystery party?
You could be organising a murder mystery party for 2, 3 or 4 players, 5 players, a 6 person, a 7, 8, 10, 12, 15 or 20 person game and we have you covered. Our small murder mystery party games come in two forms. A murder mystery dinner game for 4 to 8 people or a premium edition game for 2 to 15 people. Both are great, but the dinner game is closer in nature to a scripted murder mystery night, whereas the premium edition game is more interactive.
How do I hold a large murder mystery party?
We are specialists in organising a murder mystery party for large groups. Our premium edition pack has 2 large group sizes 2 to 60 and 2 to 120. If you want even more people to attend your event, our mega edition game can support up to 300 people.
Common misspellings that people use when searching online:
Murder mistery, muder, murder mistery, murder myster, murder mystrey, murder mystry night, murder.mystery, murder mystery part, murde, nystery.
What other murder mystery games are you working on?
You may have been searching for information on a Reddit thread and there is lots of good advice there. If you are in the market for a murder mystery game kit or a murder mystery party kit then you might have found listings on Amazon but were you left wanting? The common murder mystery games you get on Amazon are usually for small groups on and don't have the flexibility of Murder in a Box games. Here are some examples of what we will work on in the future.
Clue themed, medieval, Victorian, trailer park, masquerade, murder at the disco, Harry Potter, new year's eve nye, murder on Misty Island, and Jackbox.
What Australian cities do you supply to? We send our games all over the world but particularly provide for a murder mystery party Perth, Adelaide, Melbourne, Hobart, Canberra, Sydney, Brisbane, Darwin or anywhere in Australia.
We have the experience to give you the event you desire!
© 2023