Murder Mystery Games
Our murder mystery games are fabulous. In fact we are so confident that...
If you are not completely satisfied with our boxed murder mystery game kit, simply send it back for a full no questions asked refund. With our downloads you have 48 hours from the time of purchase to ask for a refund.
Thanks so much for hosting the night. We had a really great time.
---Tamara, Gadens Lawyers---
Thank you so much! I can't wait to throw this party. I have used the boxed versions three times before and our friend LOVE these nights!! So much fun!!!
---Cheers Rochelle---
Thank you for a very entertaining night full of laughs, everyone really enjoyed it and the role playing was hilarious! Many thanks!
---Belinda, Bank West---
Why we provide the best murder mystery game
We have been supplying murder mystery games, both downloadable and boxed for over 30 years. You do not last that long unless you are the best. Our games have all been played hundreds of times and we test and get feedback so that you know you are getting the best game that works every time.
Our murder mystery party games
We ship free of charge anywhere in the United Kingdom, USA, Canada, Netherlands, South Africa, New Zealand or Australia or enjoy an instant prinatble download.
With 30 years of experience we are the best!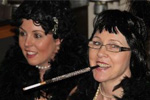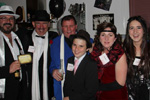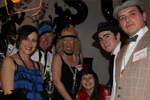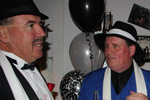 How do murder mystery games work on the night?
1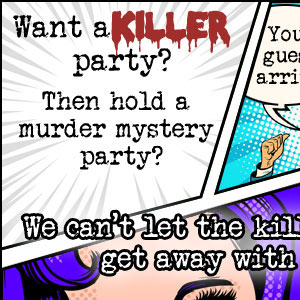 2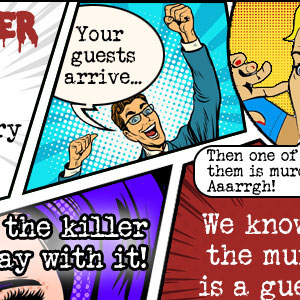 Your guests arrive, you meet and greet them "kiss, kiss darling!
3
Once everyone has arrived, your host will kick things off. You might play a game or have other kinds of theatrics. Then, with lots of gasps and cries the host will announce that there has been a murder. It will finally be revealed that a guest at your party has been killed and that another guest is the murderer. But who?
4
We can't let the murderer get away with it. We need to identify them so they can't kill again.
5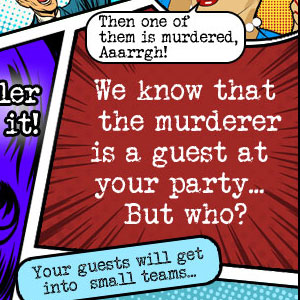 The murderer is a guest at your party. But who? The murderer is suffering PTSD and can't remember committing the crime.
6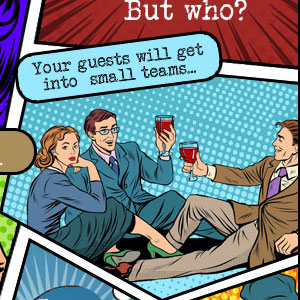 Your guests get into small teams. This is great because your guests can choose the role they want to take in the team. Your extroverted friends can shine and the shy ones can work behind the scenes. The murdered victim is a vital part of the game and also joins a team.
7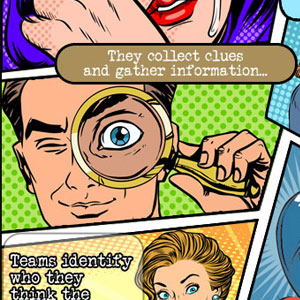 Teams trade clues, gather information and put the pieces together. There are lots of dramatic events, accusations and all sort of other shenanigans.
8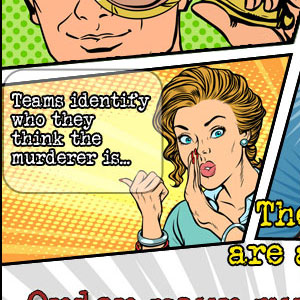 Finally, at the end of the game, the teams tell us who the killer is and how they think it happened.
9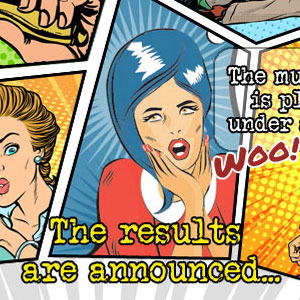 The true story and killer is revealed.
10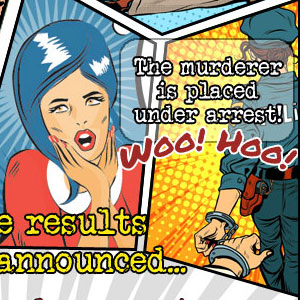 The killer is arrested. Your party guests are safe once more!
How do you know you have the best murder mystery game?
Is the murder mystery game written by an experienced organisation? We started writing games 30 years ago in 1990 and we haven't looked back since.
Are the games tried and tested? All our games are proof read multiple times and tested before sale. We get regular feedback and use this to constantly improve the quality of our games.
Are the game materials designed by a graphic designer? All of our materials are professionally produced by a graphic designer and we guarantee the quality.
Are the boxed murder mystery games printed to a high standard? We have used many printers over the years. We don't photocopy materials but use a professional offset printer.
Have the games been used before? Each of our games has been used hundreds of times and we get excellent feedback.
Do we have confidence in the quality of your games? We are so confident with our games that we offer a no questions asked full refund policy.
Do you offer postage free murder mystery games? We want you to get our games as quickly as possible so we send them anywhere in the world for free.
Are you interested in online virtual murder mystery games like a Zoom murder mystery online game free from the hassles of social distancing?
We have created the ultimate guide to online murder mystery games. These virtual events can be a tonne of fun in these crazy times. Your online online murdering mystery games could be an awesome team building event or family get together. Click this link to learn more virtual online Zoom murder mystery games.
We have adapted our games so they are the best Zoom murder mystery games anywhere on the internet. Your murdering games free from the constraints of a live event are here and ready to go. Host an interactive Zoom whodunnit for the online detective to play on virtual platforms like Zoom or Teams. Play your murder mystery game via Zoom and all your work mates will have an amazing time given the constraints of social distancing and working from home. Enjoy murdering for Zoom or over Zoom with your friends or colleagues. Why not get your family involved no matter where they are in the world.
We have a full range of online mystery games with all the virtual murdering you can handle and are the best whodunnit, crime solving murder mystery games around. Click any of the game images above for a truly mind blowing digital whodunit. To extend our range, we will soon be developing a murder mystery game for 2, for couples or for a date night. Our murder mystery games free from a red herring or two (not) are the best murdering games anywhere. A solve a murder, find the murderer, detective killer, crime solving, guess the killer or murder mystery games with friends is the perfect idea to spice up your next party.
How do I know that I am getting the best murder mystery box?
Our company started in 1990 and you don't last over 30 years unless you have a fantastic product. We ensure that any mystery game box we sell has been expertly written and the materials are produced by a professional graphic designer. Are are super confident that we have the best murder mystery box games and digital downloads on the market.
Do you have murder mystery games for small groups?
Yes! Our small group murder mystery game options are a flexi game that is suitable for up to 15 people. You can have murder mystery games for 2 players, 3 players, 4, 5, 6, 7, 8, 9, 10, 11, 12, 13, 14 or 15 players. Our dinner edition games suit 4 to 8 players while our premium edition murder mystery games are for 2 to 15 players.
Do you have murder mystery games for large groups?
Yes! Our murder mystery games for large groups are super flexible and will see you having a killer night for 2 to 15 people, 2 to 60 people or 2 to 120 people with our premium edition murder mystery games and up to 300 people with our mega edition murder mystery games.
Do your murder mystery game box sets require a subscription?
No! They are a one time purchase and no subscription is required. You can get a subscription box Canada, USA, Australia etc. with a monthly box from Hunt a Killer, or Catch a Killer but ours is a murder mystery party box that is a one time sale and not monthly.
If you want to solve the crime, a cold case or a crime mystery then our Murder in a Box parties are great!
Do you have date night murder mystery box games?
We don't currently have a date night murder mystery box but we are working on it.
Do you have a Titanic murder mystery box?
We don't have a Titanic themed murder mystery game as such but our Caribbean Cruise game is a close match.
What were the best murder mystery boxes 2023 or 2024?
By far our most popular theme is the Tracy Gang 1920s game. Enjoy the roaring 20s with this awesome title.
Are you located in the United States? Why not try on new USA based murder mystery games site murder mystery games USA.
What is the best murder mystery game kit?
That is a very subjective question as it depends on your whodunit interests. Our 1920s murder mystery game Tracy Gang is by far our best seller but all our murder mystery party kits have a lot to offer. If you want murder mystery kits for adults then the first lot of game listed above are the perfect choice. Adult parties are covered but what about teens and tweens? A murder mystery birthday party kit will provide just the best way to celebrate a birthday. Kids, tweens, teenagers and adults all love our themes. You can get a murder mystery kit from Amazon but the best murder mystery dinner party kit is right here. Click the images above to look more closely at our games. If you want to solve a murder free from the hassles at home, at work or at a hired venue then host a murder mystery party. We do not offer a subscription murder solving kit but a one time flexi party boxed or downloadable online kit. The stories are fictional but the fun is real. Get your murder mystery game night kit by clicking the images above.
The best murder mystery games very much depends on your guests and interests but here are some suggestions. What are the best murder mystery board games? Clue or Cluedo are definitely the best. What are the best murder mystery games for adults? They are all good but I particularly like our Bogan Bride and the Billionaire theme for adults (definitely not kids or teenagers). What are the best free murder mystery games? We do have an option to provide you with a free murder mystery game. See the links below. What are the best murder mystery dinner party games? All of our themes come with a dinner edition game for a great dinner party at home or at a restaurant. What are the best mystery games online? All of our games can be played online but since you are going with the tech theme why not play Facebook Fatality. What are the best murder mystery games for families? When you look at our games list above you will see that some as rated for teenagers. These are the games we would recommend for families or a family night. What are the best murder mystery games for couples? We are currently working on a date night murder mystery game for couples. What is the best Christmas murder mystery game? This one is easy Christmas Capers.
Other murder mystery game theme ideas:

Back to Prom
Get Crafty
1980s Dance Party
Mexican Fiesta
A Night At El Morocco
Princess Party
Maine-inspired Clambake
DIY Spa Party
1920s Speakeasy
Champagne and Dessert game
Farm-To-Table Dinner
Flower Power Games
Back To College
Slim Aarons-Inspired Pool Game
1960s "Mad Men" Inspired Bash
Old Hollywood Glamour Game
Toga Party
Cowboys and Indians
Slumber Party
Murder Mystery Games
Pumpkin Carving Party
Picnic Dinner Party
Tailgating Party
Secret Santa Game
Make Your Own Pizza Party
Game Night
Masquerade Ball
Book Club
Cake Decorating Party
Casino Night
Mardi Gras
Ugly Sweater Game
Go For the Gold
Come As You Were
Alice in Wonderland
Vodka-tasting Games
Karaoke Party
Cinco de Mayo
Backyard Carnival
Pirate Bash
Parisian Café
Dim Sum
Mad Scientist Game
Wine and Cheese Party
Black Widows Party
Studio 54
Midnight Breakfast
Grilled Cheese Off
Make Your Best Dish Potluck
Blind-Wine Tasting
Backyard Rosé Games
Anna Karenina
Campfire
Under the Stars Movie Party
Geishas and Samurais
Trivia Night
Barbie's Dreamhouse
Diwali Soiree
Cookie Making Bash
Pasta Party
Breakfast at Tiffany's
Champagne Potluck
Come Dressed As Your Favourite Painting
Fall Harvest Dinner
Hawaiian Luau
Crochet and Pink Lemonade
Dessert Games
Stache Bash
A Clockwork Orange
Jungle Bash
A Cocktail Per Room
Star-Gazing Soirée
007 Party
Surf's Up
Denim and Diamond
Lord of the Rings
Oscars Party
Havana Nights
Winter Wonderland
Cupcake Wars
Downton Abbey Watching Party
Truth or Dare?
Justin Bieber Theme Party
Enchanted Forrest
Wizard of Oz Party
I Want To Be a Supermodel
Decorate the Christmas Tree
Anchors Away
Roaring 1930s Gangster Game
Backyard Beer Bash
Ascots, Cardigans, and Bow Tie
Scotch and Chocolate
English Pub
Retro Bowling Games
Doughnuts and Milk
What Would Coco Chanel Do
See Red
© 2023