Murder Mystery Games
Why we provide the best murder mystery games
We have been supplying murder mystery games both downloadable and boxed for 29 years. You do not last that long unless you are the best. Our games have all been played hundreds of times. We test get feedback and improve so that you know you are getting the best game that works every time.
We believe in our murder mystery games so much that if you are not completely satisfied we offer a 100% no questions asked money back guarantee!
What is a murder mystery game?
A murder mystery game is an interactive game that involves solving a mystery based on clues available at the scene of the staged crime and each party guest plays a character involved in the mystery. Your group will play the characters involved in the mystery, the murder mystery game kit or online download includes clues, invites and everything needed to hold an awesome party.
Our murder mystery games are not a sit around a table game, the games are live and impromptu while guests solve the mystery.  If you want a fun interactive event that is easy to organise and manage on the night then you have struck gold. Our kits and downloads contain everything you need to host the game successfully.
Why Use Our Murder Mystery Games?
Using our murder mystery kits make hosting a successful evening easy, they're a way to guarantee that everyone has a great time. There are 3 important advantages to using our pre-prepared games rather than making your own.
1. It's Difficult to Create a Game with no Plot Holes - If you're wanting to create your own mystery, it is a complex task ensuring that there are no plot holes and that all guests are involved in the mystery. It's easy to forget details when you are dealing with multiple story lines. This is especially true for larger groups where the interactions become increasingly complex. Our games are extensively tested so that games resolve successfully every time as well as ensuring that everyone participates.
2. We Have Over 29 Years of Experience - We have years of experience creating the most unique and fun interactive murder mystery games. We offer a range of different themes and options to cater for almost any requirements for adults, teens and kids so there's no need to create your own game. We are also able to create bespoke one-off games to give your guests a truly one-of-a-kind experience.
3. Our Games are Completely Unique - We pride ourselves on offering different, unique themes. You won't find games like ours anywhere else – they're elaborate, and full of fun details. This means that you don't need to create your own and you can host a party knowing that the entertainment will be special and your guests are guaranteed to have a night that they won't forget.
Our murder mystery party games
How do murder mystery games work on the night?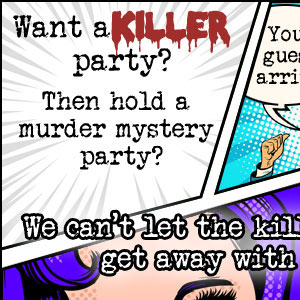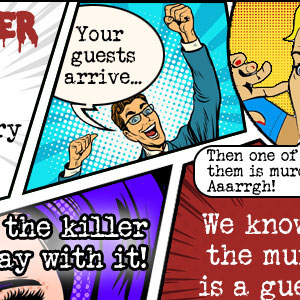 Your guests arrive, you meet and greet them "kiss, kiss darling!"
Once everyone has arrived, your host will kick things off. You might play a game or have other kinds of theatrics. Then, with lots of gasps and cries the host will announce that there has been a murder. It will finally be revealed that a guest at your party has been killed and that another guest is the murderer. But who?
We can't let the murderer get away with it. We need to identify them so they can't kill again.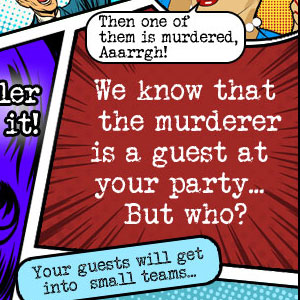 The murderer is a guest at your party. But who? The murderer is suffering PTSD and can't remember committing the crime.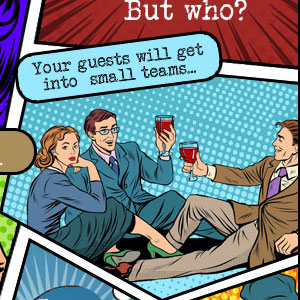 Your guests get into small teams. This is great because your guests can choose the role they want to take in the team. Your extroverted friends can shine and the shy ones can work behind the scenes. The murdered victim is a vital part of the game and also joins a team.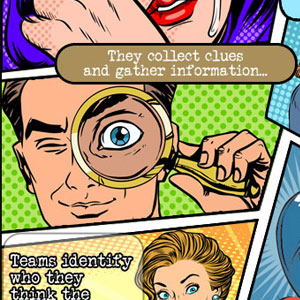 Teams trade clues, gather information and put the pieces together. There are lots of dramatic events, accusations and all sort of other shenanigans.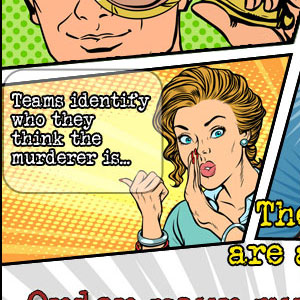 Finally, at the end of the game, the teams tell us who the killer is and how they think it happened.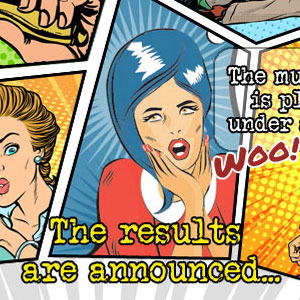 The true story and killer is revealed.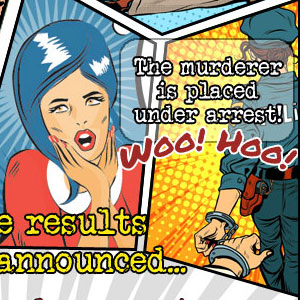 The killer is arrested. Your party guests are safe once more!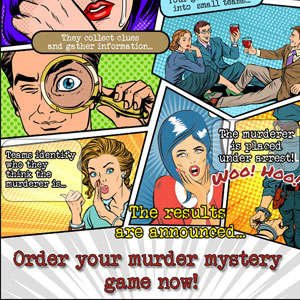 Our games are fabulous. In fact we are so confident about our games that...
If you are not completely satisfied with our boxed games simply send them back for a full no questions asked refund. With our downloads you have 48 hours from the time of purchase to ask for a refund.
Some tips
Costumes improve your party! The more you encourage your guests to dress up the more fun the night will be. When people look silly they let their hair down and have a good time. Every area has great costume hire stores, so check Google or the Yellow Pages. If you don't want to bother your guests with costumes why not bring a box of accessories? You could bring hats, feather boas, old Hawaiian shirts or whatever you can get your hands on. Don't be afraid to get dressed up. Costumes help participants to get into character and the more involved your guests are in the game, the more fun they'll have.
Theming and decorating improve your party! It is a good idea to theme your venue or house. Decorations are not essential, but if your guests walk into a well themed venue they will have a really positive reaction. Setting up the venue with a theme using decorations is the best way to set the scene for a great murder mystery evening. It helps to get guests excited and will ensure the evening is a success.
Don't make murder mystery games surprise parties! People love murder mysteries and get really excited. Build that excitement by telling everyone about your game. Build excitement before the event and don't make your murder mystery evening a surprise party. People love to be able to plan their outfits in advance and get excited. Sending out personalized invitations is one way to help build anticipation.
Murder mystery parties are a great option for a fun night out with friends, colleagues and family. If you have any concerns about whether guests will mingle or have fun, you can mitigate those risks with one of our kits. They're an exciting, unique way to get all your guests involved and they guarantee an unforgettable experience.
© 2019