Murder Mystery Actors For Hire
An important factor when holding a murder mystery party is choosing the right host.
You have three choices:

Host the party yourself or get a friend to do it
Click the link for your state to hire a murder mystery host from this page
Hire a local from a theatre or public speaking group etc.
Australia
Countries outside Australia:
Doing it yourself is cheaper, but hiring a host will make the party easier to organise and you get the benefit of their experience.
The people on our list are talented facilitators with experience running murder mystery parties.
We recommend these people in good faith, but Murder In A Box does not employ them, or guarantee their services.
We provide this list as a courtesy to assist clients looking for professional assistance. It's up to you to negotiate with your host to ensure they meet your needs.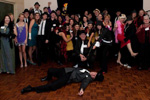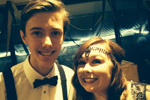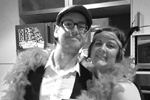 What will the host do? Their role is to attend your event, get everyone actively involved, guide you through the mystery and ensure everyone has a great time. Any special requests must be negotiated.
What time will the host arrive? It is generally best to ask your host to arrive when all of your guests are already there. If your party starts at 7pm ask your host to arrive between 7:30 and 8pm.
Will they come and meet with me before the event? The hosts are very experienced with how things work. Meetings will be via phone and email.  If you want the host to come and meet you in person they may charge you a fee for time/travel.
How do I hire a host? From our list above, click the link for your state or area. This will show a list of murder mystery hosts in your area. You can then call or email them to discuss your event. If you are happy you can book them over the phone. You could also find a host on this site https://www.dramagroups.com/.
What does it cost? We recommend that professionally hosting a party in the inner metro area is valued at $300 to $500. If your event is on a boat or a train or in an unusual location, expect your host to charge more as it will take more of their time to organise for your event.
What if my party is outside the inner metro area? Many hosts are prepared to travel and will charge a fee based on your location.
As a guideline if you are:

More than 40 mins or 50km from the CBD: Expect some travel costs.
More than 2 hours from the CBD: Expect to provide overnight accommodation plus food and an overnight fee.
More than 3-4 hours drive from the CBD: Expect to fly the host to your location (or pay extra travel costs), provide the host with ground transfers (taxi, pick up or hire car), overnight accommodation plus food and an additional overnight fee.
Note: If the host is travelling in their own car they may charge a per kilometre fee based on tax office, RAC or NRMA recommendations.
How do I pay the host? Generally cash or cheque at the party but discuss this with your host. Some hosts may also ask for a deposit.
Does the host bring the Murder In A Box pack? No!  You order it separately before the party and must have it available.
How many hosts do I need? Discuss this with your host. One host can handle a group of about 60 guests. If you have more than 60 it may be helpful to nominate an assistant for your host.
Will the host dress up? Yes, but again discuss this with your host.
Would you like to be a host on our list? Click the contact us link at the top of the page and get in touch.
Our Murder Mystery Party Games
Click a game to learn more
Boxed and Download - Adult murder mystery games
Download Only - Adult murder mystery games
Teenager murder mystery games
Adult and teenager party games (no murder)
Kids' party games (no murder)
Mini Murder Mystery Party F.A.Q.
How much do murder mystery games cost? Click the game images above to see prices.
Do we need a host? It is up to you. You purchase a game from us then run it yourself or hire a murder mystery host.
Are you available on...? Click hire a murder mystery host. Contact the hosts to check their availability.
Does everyone get a character? Sure do.
What do I get? Our murder mystery games contain between 100 and 300 items to make your party fabulous.
Can I ask questions? Yes please. Click "Contact Us" above.
© 2023