Christmas Capers
A Christmas party where Christmas presents blow you up? Sounds awesome!
Instead of the usual tedious Christmas party where individuals nibble on snacks, sip cocktails, and discuss uninteresting work-related topics, you could host a murder mystery party to inject some life into the evening. Your attendees could attire themselves as characters from the murder mystery party game, set at Santa's workshop in the North Pole. One person could depict Santa, whilst the rest dress up as elves, toys, reindeer, or snowmen.
Testimonial
Hi Team, I just wanted to say a HUGE thank you for Saturday night. All my friends had a blast of a time & everyone commented how good the game and the host was. The night wouldn't have run so smoothly without your company. I hope you had just as much fun as what we did & a few people have commented to me to have another party. I hope to be contacting you again in the near future for the next party, even those who complained about dressing up, had a ball. Thanks again.
---Sarah---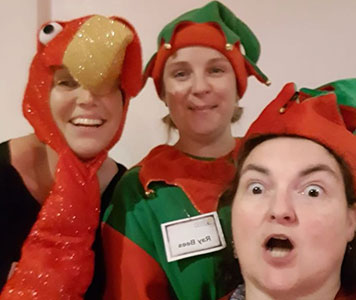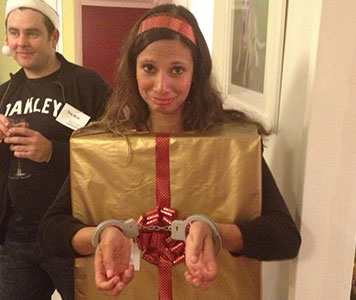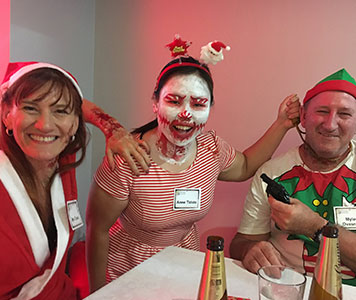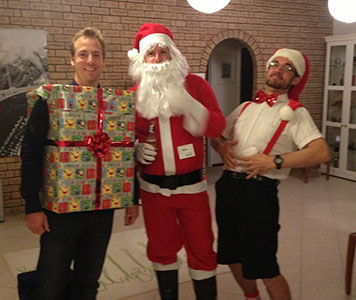 Photo
Title
Price
Qty
Add To Cart

Click to enlarge

Boxed Game

-

Premium Edition


Christmas Capers 2 to 60 Players
$205.00

Click to enlarge

Boxed Game

-

Premium Edition


Christmas Capers 60 to 120 Players
$255.00

Click to enlarge

Download

-

Dinner Edition


Christmas Capers 4 to 8 Players
$85.00

Click to enlarge

Download

-

Premium Edition


Christmas Capers 2 to 15 players
$120.00

Click to enlarge

Download

-

Premium Edition


Christmas Capers 2 to 60 Players
$140.00

Click to enlarge

Download

-

Premium Edition


Christmas Capers 2 to 120 Players
$160.00

Click to enlarge

Download

-

Virtual Edition


Christmas Capers 2 to 15 Players
$120.00

Click to enlarge

Download

-

Virtual Edition


Christmas Capers 2 to 60 Players
$140.00
Shipping Details:
Shipping on all orders within Australia is $0.00. Shipping outside Australia is $0.00.
The Story
Setting: Santa's workshop the North Pole.
Story: Welcome to the North Pole. Santa is working hard to produce toys for the kids at Christmas. Sounds nice doesn't it? However, after 1000 years, Santa has had enough and it is time to hand over the reindeers to a new younger Santa. The recent gift wrapping exams have identified a superstar that is perfect as a new Santa. The only problem is... she is about to be blown up. Disgruntled, power hungry elves and dwarves are angry at Santa's planned replacement. This leads to a web of love, explosions, backstabbing and betrayal that may force Santa to stay on for another 1000 years. You would think Santa was the boss but he was pushed out in a corporate takeover many years ago. Now it is the highly competitive world of toy development that has everyone on edge. Scheming, deceit and all sorts or nasty doings are the order of the day in our white wonderland. Have you been naughty or nice this year? Lets hope our white Christmas doesn't run red!
Adult Themes: Nil.
Costumes: Guests come dressed as goblins, elves, kids, toys, reindeer, Santa, snowmen/women or any other Christmas themed costume.
How Do Costumes and Characters Work? To make the game as easy as possible to organise, your guests do not need to dress as any particular character. The costume they wear does not affect the character they play in the murder mystery. You allocate the murder mystery characters on the night of the party. This means that if guests are sick and can't make it or extra friends want to come then there is no impact on running the game.
Normal Use: Fundraiser, kids 11+, teenage or adult party.
Group Size: 4 to 8, 2 to 15, 2 to 60, 60 to 120.
Will you survive an icy winter in the North Pole?
Please check if your game is
Downloadable

or

Boxed

when you order.
What is the difference between
Download

and

Boxed

Games?
Download

- You receive the high quality materials electronically. You download and print the materials yourself and save money. Nothing is posted to you.

Boxed

- Your game is printed and packaged by us, saving you time and providing the highest quality materials. We post to you anywhere in the world.
What different types of games do you have?
Download

- You download and print, nothing is posted to you.

Boxed Game

- A pre-printed boxed game is posted to you.

Premium Edition

- Interactive, super fun group murder mystery party game for 6 to 120 people. Requires a friend or professional host.

Dinner Edition

- Perfect for a small group of 4 to 8 people over dinner. The host can also play.

Virtual Edition

- Specially designed to play online over Zoom or Teams etc. Requires a friend or professional host.

Mega Edition

- Specially designed for very large groups of greater than 120 people. Requires a friend or professional host.

Theatrical Edition

- A scripted murder mystery that is delivered as a performance in front of a group of any number of people. Requires 10 to 20 volunteers.

Time Travel

- A non-murder game that takes you to a particular time in history. Requires a friend or professional host.

Kid's Edition

- A non-murder game for kids. Requires a friend or professional host.
What is the difference between Dinner Edition and Premium Edition Games?
Premium Edition:
Premium Edition games are the ultimate in interactive fun. They are a full night of entertainment and require a host (friend or hired) to run them. Your guests work in teams to solve the crime and there is heaps of mingling and sleuthing fun. If you want an amazing night your friends will remember for ever, Murder In A Box Premium Edition games are the way to go.
In a Premium Edition game your guests play the characters in the murder mystery story.
Perfect for:

Any event that you want to be amazing
Staff, Christmas, work, birthday party
Super fun party
Conference
Fundraiser
Team building
Hen's night
What you get in a Premium Edition murder mystery game (depending on size):

The Murder In A Box – box

(not in download)

Contents sheet
15 to 120 electronic invitations to print or email before the event
The Presenter's Handbook
The Full Story
Extra games
Decoration suggestions sheet
15 to 120+ character name badges
Evidence that is hidden and found
Planning a fantastic party guide book
60 to 120 cryptic clues
The full story
A pair of handcuffs

(not in download)

2 props to be used - Such as a secret letter
Special awards
Sleuthing materials
8 to 18 pens

(not in download)

8 to 18 sets of team directions
Welcome sign
Information about venue set up
Dinner Edition:
Dinner Edition games are very easy to run. They do not require a hired host and are great to enjoy around a dinner table.
In a Dinner Edition game your guests play investigators that are trying to solve the crime. The characters your guests wear on their badges are not directly mentioned in the story and so you have lots of flexibility with how many people play the game.
Perfect for:

Any low key event
Dinner party
Dinner at a restaurant
Backyard party
At work while other things are going on
What you get in a Standard Edition murder mystery game:

The Presenter's Handbook
8 name badges
A Suspect's Sheet for each player
8 round 1 scripts
8 round 2 scripts
8 round 3 scripts
The full story
Our Murder Mystery Party Games
Click a game to learn more
Boxed and Download - Adult murder mystery games
Download Only - Adult murder mystery games
Teenager murder mystery games
Adult and teenager party games (no murder)
Kids' party games (no murder)
Mini Murder Mystery Party F.A.Q.
How much do murder mystery games cost? Click the game images above to see prices.
Do we need a host? It is up to you. You purchase a game from us then run it yourself or hire a murder mystery host.
Are you available on...? Click hire a murder mystery host. Contact the hosts to check their availability.
Does everyone get a character? Sure do.
What do I get? Our murder mystery games contain between 100 and 300 items to make your party fabulous.
Can I ask questions? Yes please. Click "Contact Us" above.
Christmas is a time to celebrate. It has been a long year and just like Santa's elves your staff have been working hard. It is time for a dinner, some drinks and a party on the boss.
The end of the work year and a time to let your hair down. The corporate rules and procedures have produced a successful year but you have to let the staff vent and have an outlet for all the annoying customers and others you have had to deal with over the year. You can't put your customers onto Santa's naughty list so what can you do?
Why not do something new this year.
Hold a murder mystery party as a part of your Christmas celebration.
A Christmas Capers murder mystery party is a great idea. It will provide a fun and structured way for your staff to let off steam, have a laugh and really enjoy themselves at the end of a frantic year.
You can build the team and celebrate the year at the same time.
Venue decoration ideas for a Christmas Capers Party:

Sand in brown paper bags and tea lights or candles inside
Oil lanterns outside
Red and green cocktails
Snowmen on the front lawn
Christmas tree
Fairy lights
Red and green balloons and anything festive
Pine/Christmas trees
Beach balls and blow up toys
Flags, maps and compasses
Cargo/luggage
Tea light candles
Photos of yourselves on family holidays
Pictures of the beach/snow
Posters of tropical islands
Hang tinsel and normal Christmas decorations
Movie posters of Christmas films
Signs e.g. Santa's Den, Mrs Claus' Boudoir
Issue guests with a funny personalised North Pole visa
If you have a large television screen or projector, play an iconic Christmas movie or video (WITHOUT sound) and have them flickering during the night
Find Christmas CD/MP3s to play during the night
Chalk/tape outline of a murdered body on the floor
Costume ideas: Please dress as Santa, a sexy elf, troll, Eskimo, snowman, penguin, toy, child, business person troll, goblin, present or in your red and green Chrismas finest.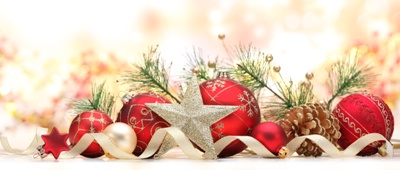 Host a Murder Mystery Game for the Office Christmas Party
If you are in charge of planning your office's Christmas party and want something different than the typical banquet and cocktails, consider throwing a murder mystery party. Murder mystery party games would be a fun way for you and your co-workers to interact instead of just sitting around eating, drinking and talking.
Create a Murder Mystery Party Theme
Playing a murder mystery party game would give everyone in your office a chance to dress up as the characters in the game. While there is a themed Christmas murder mystery game, you could choose from the Hollywood Scandal game and party goers could dress up as their favourite actors or actresses.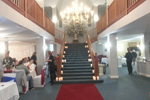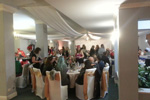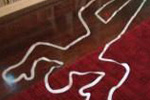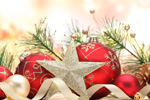 To go along with the game, tuxedos and long gowns could be the attire of the evening. A red carpet could be laid out in front of the entrance that leads to the party and a photographer could be hired to take pictures, just as the paparazzi would at a Hollywood event. If the Hollywood theme is too formal, then you can pick from several other murder mystery party games for your Christmas party.
A Suitable Game for Large Crowds at your Christmas Party
No one has to be left out of the game when you order a murder mystery party game. You only need two players for the game, but you can purchase games for as many as 60 players or another edition will handle as many as 120 players. Everything you need to play the game is included. There are name badges, invitations for the party, a party guidebook, a pair of handcuffs, clues, sleuthing materials, decoration suggestions and more.
Who can Play the Game?
Anyone who likes to solve clues, play an interactive game or enjoys thrillers will enjoy being in the murder mystery party game. If there are older children attending your office Christmas party, they could participate as well. The game is suitable for children 11-years-old and up, so older kids can have fun with the game as well.
If you prefer, you could set up a mystery game for the older kids in another room and leave the main game for the adults attending the party.
Hiring a host will cost a bit extra, however, most office parties have a budget and you could use part of the party budget on a host as well as a caterer.
Where to Play the Murder Mystery Christmas Game
Selecting a venue will depend on how many people will be playing the game. Be sure to RSVP in time to hire a venue, especially around the Christmas season. If you are going to have a large group of players, you may wish to hire a conference room at a hotel or a banquet room at a restaurant to hold your murder mystery party game.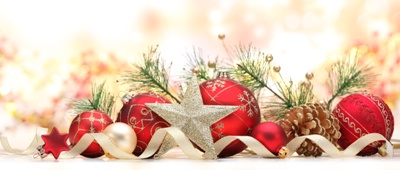 On Saturday 9 July 2016 we celebrated Christmas in July at Peel Manor House. The venue wanted to do something different though so they organised a murder mystery party as a part of their Christmas in July celebrations. The idea was a huge success because the event was Sold Out and some people had to miss out.
Peel Manor House was beautifully set up with candles, Christmas decorations, Christmas trees and much more.
The guests went to great efforts and were all dressed up for their Christmas in July murder mystery party. We had elves, pixies, fairies, reindeer and of course the man himself Santa Claus and the lovely Mrs Claus.
Dinner was a 3 course buffet including entree, mains and dessert.
The murder occurred at about 8pm. "Candy Cane" who was actually attending as a part of her hen's night was the poor victim that met a foul end due to cyanide poisoning. I wonder if she had any idea she would be murdered on her hen's night?
Each table at the event formed a team and the teams had to work together to solve the crime.
The sleuthing is the best part of the Christmas in July murder mystery game. Participants move around the room with clues, mingling and talking to other guests in an attempt to gather vital information.
Throughout the night guests made lots of accusations aimed at the other characters. People were accused of murder, theft, blackmail and other forms of foul play.
At the end of the Christmas party when all the clues were out, guests told their final story. The host revealed the true story of what happened to Candy Cane (our hen victim) and the winner was announced.
The winners won a beautiful bottle of wine supplied by Peel Manor House and were quite chuffed indeed.
Overall the night was a sell out and a huge success. After the murder mystery party the guests continued to party on the dancefloor until midnight. The end result of our Christmas in July murder mystery party was a lot of fun and we did find justice for poor old Candy Cane!
If you think you would like a murder mystery party for your next Christmas in July then click one of the images below for more information.
Our copyright rules short version
If you are making money from the game e.g. selling tickets to a show, using it for commercial clients, using it as a training tool for paying participants, you may only use the game once.
If you are NOT making money from the game e.g. holding a party for yourself or your work, you may use the game as many times as you like.
We want to help you make a profit from our games. Purchase a game, sell tickets and make money.
© 2023