Haunted Horrors
Welcome to this nightmare!
Do you have a fascination with ghosts and ghouls? Then this murder mystery party might be the perfect fit for you! Set in the eerie and mysterious Nosferatu's castle, you and your friends can dress up in amazing costumes and immerse yourselves in the spooky atmosphere. How about a unique refreshment like a glass of "blood"? Come join the fun!
Testimonial
Such a great night. Everyone dressed up so well and I am really glad I organised a professional photographer.
---Martene Stone---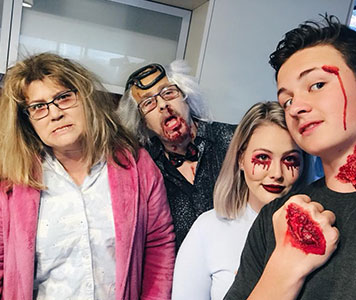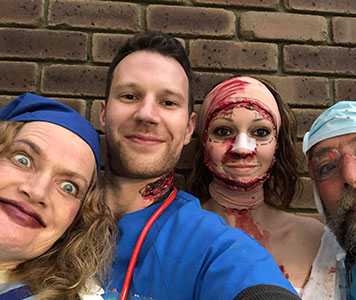 Photo
Title
Price
Qty
Add To Cart

Click to enlarge

Download

-

Dinner Edition


Haunted Horrors 4 to 8 Players
$85.00

Click to enlarge

Download

-

Premium Edition


Haunted Horrors 2 to 15 players
$120.00

Click to enlarge

Download

-

Premium Edition


Haunted Horrors 2 to 60 Players
$140.00

Click to enlarge

Download

-

Premium Edition


Haunted Horrors 2 to 120 Players
$160.00

Click to enlarge

Download

-

Virtual Edition


Haunted Horrors 2 to 15 Players
$120.00

Click to enlarge

Download

-

Virtual Edition


Haunted Horrors 2 to 60 Players
$140.00
Shipping Details:
Shipping on all orders within Australia is $0.00. Shipping outside Australia is $0.00.
The Story
Setting: A night in Nosferatu's Castle.
Story: Welcome to the Hell. Set in Dracula's Castle our ghosts, goblins and hobgoblins just can't keep their hands to themselves.  Lies, blackmail, secret affairs, mystery disappearances are just the beginning as this devilish, tortuous and dastardly night of murder unfolds. You will be sacrificed to scandal and mayhem as you and your fellow ghouls unravel a twisted tangle of undead madness to ultimately be crowned the most vivacious vampires in Transylvania. You would think Satan was the boss but he was pushed out in a corporate takeover many years ago. Now it is the highly competitive world of soul destroying that has everyone on edge. Scheming, deceit and all sorts or nasty doings are the order of the day in our burning abyss. Lets hope our haunted house doesn't run red!
Adult Themes: Relationships, hidden babies.
Costumes: Guests come as their favourite ghost, ghoul or other undead character.
How Do Costumes and Characters Work? To make the game as easy as possible to organise, your guests do not need to dress as any particular character. The costume they wear does not affect the character they play in the murder mystery. You allocate the murder mystery characters on the night of the party. This means that if guests are sick and can't make it or extra friends want to come then there is no impact on running the game.
Normal Use: Fundraiser, kids 11+, teenage or adult party.
Group Size: 2 to 15, 2 to 60, 60 to 120.
Will you survive a night in Nosferatu's Castle?
Please check if your game is
Downloadable

or

Boxed

when you order.
What is the difference between
Download

and

Boxed

Games?
Download

- You receive the high quality materials electronically. You download and print the materials yourself and save money. Nothing is posted to you.

Boxed

- Your game is printed and packaged by us, saving you time and providing the highest quality materials. We post to you anywhere in the world.
What different types of games do you have?
Download

- You download and print, nothing is posted to you.

Boxed Game

- A pre-printed boxed game is posted to you.

Premium Edition

- Interactive, super fun group murder mystery party game for 6 to 120 people. Requires a friend or professional host.

Dinner Edition

- Perfect for a small group of 4 to 8 people over dinner. The host can also play.

Virtual Edition

- Specially designed to play online over Zoom or Teams etc. Requires a friend or professional host.

Mega Edition

- Specially designed for very large groups of greater than 120 people. Requires a friend or professional host.

Theatrical Edition

- A scripted murder mystery that is delivered as a performance in front of a group of any number of people. Requires 10 to 20 volunteers.

Time Travel

- A non-murder game that takes you to a particular time in history. Requires a friend or professional host.

Kid's Edition

- A non-murder game for kids. Requires a friend or professional host.
What is the difference between Dinner Edition and Premium Edition Games?
Premium Edition:
Premium Edition games are the ultimate in interactive fun. They are a full night of entertainment and require a host (friend or hired) to run them. Your guests work in teams to solve the crime and there is heaps of mingling and sleuthing fun. If you want an amazing night your friends will remember for ever, Murder In A Box Premium Edition games are the way to go.
In a Premium Edition game your guests play the characters in the murder mystery story.
Perfect for:

Any event that you want to be amazing
Staff, Christmas, work, birthday party
Super fun party
Conference
Fundraiser
Team building
Hen's night
What you get in a Premium Edition murder mystery game (depending on size):

The Murder In A Box – box

(not in download)

Contents sheet
15 to 120 electronic invitations to print or email before the event
The Presenter's Handbook
The Full Story
Extra games
Decoration suggestions sheet
15 to 120+ character name badges
Evidence that is hidden and found
Planning a fantastic party guide book
60 to 120 cryptic clues
The full story
A pair of handcuffs

(not in download)

2 props to be used - Such as a secret letter
Special awards
Sleuthing materials
8 to 18 pens

(not in download)

8 to 18 sets of team directions
Welcome sign
Information about venue set up
Dinner Edition:
Dinner Edition games are very easy to run. They do not require a hired host and are great to enjoy around a dinner table.
In a Dinner Edition game your guests play investigators that are trying to solve the crime. The characters your guests wear on their badges are not directly mentioned in the story and so you have lots of flexibility with how many people play the game.
Perfect for:

Any low key event
Dinner party
Dinner at a restaurant
Backyard party
At work while other things are going on
What you get in a Standard Edition murder mystery game:

The Presenter's Handbook
8 name badges
A Suspect's Sheet for each player
8 round 1 scripts
8 round 2 scripts
8 round 3 scripts
The full story
Our Murder Mystery Party Games
Click a game to learn more
Boxed and Download - Adult murder mystery games
Download Only - Adult murder mystery games
Teenager murder mystery games
Adult and teenager party games (no murder)
Kids' party games (no murder)
Mini Murder Mystery Party F.A.Q.
How much do murder mystery games cost? Click the game images above to see prices.
Do we need a host? It is up to you. You purchase a game from us then run it yourself or hire a murder mystery host.
Are you available on...? Click hire a murder mystery host. Contact the hosts to check their availability.
Does everyone get a character? Sure do.
What do I get? Our murder mystery games contain between 100 and 300 items to make your party fabulous.
Can I ask questions? Yes please. Click "Contact Us" above.
Halloween Costume Ideas
Halloween is an incredibly unique time of year, making your dress-up options practically endless. If you're a fun-loving trendsetter who likes to stand out in a crowd, you could dress up as Count Dracula or the Joker, or even a skeleton. The key to a truly terrifying costume is not to compromise on anything - make sure you have alarming makeup, fake blood and a convincing dress-up to wear. If you'd prefer not to stand out but still want to dress up, consider dropping blood on some old clothes and putting talcum powder on your face to make you look like a ghost. You could even dress it up with white contact lenses! If you're still struggling for ideas, visit your local costume hire shop or website and look through what they have on offer.
Halloween Decorations Ideas
Whether you're hosting a Halloween party or just decorating your home for trick-or-treaters, decorating for Halloween is a great way to get you and your guests into the mood for this time of year. Make the inside of your house fearsome with hanging sheets that blow in the wind, fluffy string cotton draped around like cobwebs, and terrifying jack-o-lanterns with glowing orange eyes and creepy smiles. Make sure to turn off most of the lights and close the curtains - the darker it is, the scarier it will be! Outside your house, you can scatter more jack-o-lanterns and put signs up with scary messages like "Enter at your own risk" and "Danger, Paranormal Activity Detected!" Play creepy sounds from hidden speakers, such as screams, ghost noises or eerie music.
Halloween Food Ideas
If you're serving food at Halloween, you can really let your creative juices flow. The key here is to make every dish theatrical - serve it in a cauldron, draw a cobweb on the plate, or decorate desserts with ghosts and demons. If you're just serving finger food for trick-or-treaters or for a small gathering, try some spicy salsa served with veggies chopped into spiky shapes like teeth and fangs, or a dip like hummus with a spider's web drawn on top in ketchup. For sweets you could do small bowls of jelly with worm lollies crawling out of it. If you're hosting a full dinner party, try a soup served in a hollowed-out pumpkin with scary face pizzas or barbequed bats (using chicken wings as the bat wings) for main course, followed by ice cream cones served upside down and decorated like witches hats, or meringues shaped like ghosts. The options here are infinite, just take any dish you love and serve it with fake spiders and ants crawling all over it!
Get in the Spirit of Halloween to Solve a Murder Mystery
If you are looking for a way to entertain kids too old for trick or treating on Halloween, murder mystery party games Adelaide, South Australia may be the way to go. Instead of awkwardly standing around in clusters separated by gender, the party can liven up the night with fun and laughter as the teens try to solve a murder mystery. They can even get into the spirit of the occasion and dress up as characters in the game.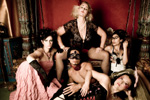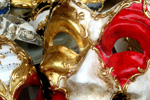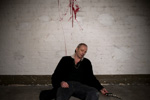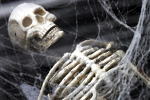 A Perfect Mystery for Halloween
The murder mystery party games come in several editions, but there is one perfect for the Halloween season called Haunted Horrors. The mystery takes place in Dracula's castle, so partygoers can dress up as vampires, ghosts, goblins, zombies or any other creature of the night.
There are two editions of this game, one with the materials for up to 60 guests and a second one that will accommodate 120 guests. To add to the fun, you can decorate the room you are playing in like a haunted castle and serve spooky looking snacks for the party participants.
Appropriate Mystery Games for Almost Anyone
The Haunted Horrors game would be great for teenagers and adults alike, so the game could be hosted by a church who might wish to help parents keep their teenagers occupied while they are taking their little ones trick or treating.
Available Mysteries
Along with Haunted Horrors, there are several other versions of the murder mystery party games. If you think the scary vampire scenario may be too much for your group, you can order a Wild West themed murder mystery or there is a Caribbean cruise theme that could be used for Halloween as well. Guests can dress up as pirates, ghosts, sailors or cruise passengers for this version of the game.
Hire a Host
If you want to participate in the party instead of hosting it, you can choose to hire a host to help you with the festivities. There are hosts available in most areas of Australia, including South Australia. The hosts can help keep guests entertained, ensure that everyone knows what they are doing and make sure everyone has a part to play in the mystery.
Along with hosts, you can even find suggestions for venues to rent if your home isn't large enough for your Halloween party. A banquet room in a restaurant or a hotel could be great places to hold a murder mystery party if you have a large group of partygoers. You will want a spot that is fairly quiet and isolated so you can have fun with your party without interference from other people or groups.
Halloween is for Adults Too
The murder mystery party games are great for adults to play as well, so you can host a party for your work colleagues, a church group or a group of friends and family. It will give the adults an excuse to dress up for the night and pretend to be someone else as they try to solve a murder mystery.
There is a Hollywood theme murder mystery party game in which participants can dress as their favourite Hollywood star and walk the red carpet. A 1920s gangster murder mystery is available for groups who might prefer to go back to the days of prohibition, mobsters and their molls. The murder mystery party games are appropriate for all ages to have fun with on special occasions or any time of the year that your group wishes to play.
History of Halloween
The Halloween tradition began in Western Europe, where the Celtic people had a festival called Samhain (named after the god of the dead) on November 1st. This was to mark the transition from the season of light into the season of darkness at the end of the summer harvest when all the crop was stored for winter. On October 31st, the night before Samhain, the Celtic priests known as Druids would gather in the forest and light huge fires, offering crops and animals as sacrifices to ward of evil spirits and honour the gods. When the Romans invaded the Celtic land, they integrated their own traditions of Pomona Day with Samhain, which they celebrated around the same time. The Roman traditions brought apples, nuts and harvest traditions as well as magic and evil spirits into the festivities around this time of year. When Britain became Catholic, the church made November 1st a holiday called All Hallow's Day as a time to honour the dead with ghosts, skeletons and skulls. Over time, October 31st eventually became known as Hallow's Eve and then as Hallowe'en, which today is known simply as Halloween in Western culture. Countries all over the world celebrate similar traditions such as Fiesta de los Muertos in Mexico, when families have picnics in cemeteries and decorate their relatives' graves, or Diwali in India, which is celebrated by lighting candles and oil lamps.
Trick or Treat
Today, trick-or-treating is known as the custom of going door to door in your neighbourhood asking for 'treats'. In some cultures, trick-or-treaters will threaten mischief if they do not receive the treat they demand. Among the Celts, the end of the harvest was the time the workers got paid and were expected to pay rent, and hence it was common in Ireland to go knocking door to door collecting money and food such as bread, cakes, nuts and apples. The Irish believed that spirits such as fairies or 'little people' came out to play on the night of Halloween, and that if they didn't give what the door knockers asked for they would be haunted by a trickster spirit. When the Irish and Scottish migrated around the world, their traditions went with them. Today, trick or treating is celebrated more in the United States than it is anywhere else.
Halloween Games
Bobbing for apples - The history of this game goes back to ancient Halloween fertility rites. According to tradition, all unmarried participants in the game would mark an apple with a knife to identify it as their own. Apples were then placed in a barrel of water with several unmarked apples and each person would try and catch a floating apple using only their mouth. The mark made on the apple would then tell the person who would be their future husband or wife. These days variants of the game exist where apples are tied to a string and hung in a row - participants must stand under the apple and try to take bites from it using only their mouths. This game is also played with sugary doughnuts and marshmallows.
Musical Graves - This is played like musical chairs, but instead of chairs there are gravestones lying face up on the ground, and instead of dancing everyone walks around like zombies. Have one less grave than there are participants. Play some spooky music while everyone walks around and when the music stops everyone must find a grave and lie down on it. The player who can't find a grave in time is out and another grave is removed for the next round. Keep playing until only one winner remains!
Guess the weight of the Pumpkin - Buy a pumpkin that's not too heavy so people can't lift it. Ask everyone to guess the weight of the pumpkin by picking it up and when everyone has had a turn, weigh the pumpkin with a set of scales. The nearest guess to the actual weight is the winner.
Our copyright rules short version
If you are making money from the game e.g. selling tickets to a show, using it for commercial clients, using it as a training tool for paying participants, you may only use the game once.
If you are NOT making money from the game e.g. holding a party for yourself or your work, you may use the game as many times as you like.
We want to help you make a profit from our games. Purchase a game, sell tickets and make money.
© 2023