Facebook Fatality
Facebook Fatality is the perfect theme for teenagers or lovers of tech. It includes hacking, murder and mystery!
Testimonials
The guests at my event loved the names and the technology concept.
---Gemma Cavoli---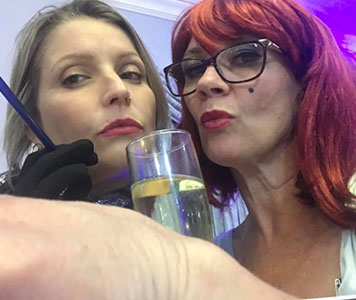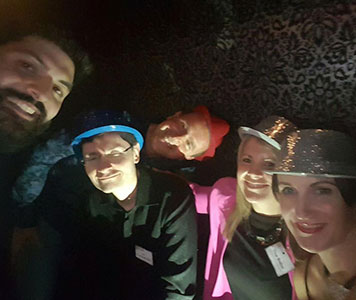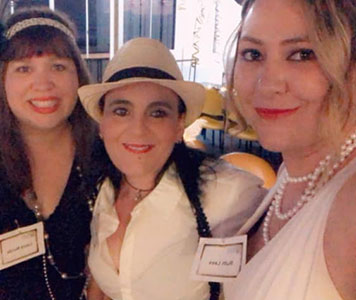 Photo
Title
Price
Qty
Add To Cart

Click to enlarge

Download

-

Dinner Edition


Facebook Fatality 4 to 8 People
$85.00

Click to enlarge

Download

-

Premium Edition


Facebook Fatality 2 to 15 People
$120.00

Click to enlarge

Download

-

Premium Edition


Facebook Fatality 2 to 60 People
$140.00
Shipping Details:
Shipping on all orders within Australia is $0.00. Shipping outside Australia is $0.00.
Setting: The Hoyts Megaplex California.
Story: There has been a terrible murder and the police are hot on the case. The only clues they can find are posts bragging on Facebook. Follow the trail with our mad bunch of tech heads. This story has Facebook, Twitter and all sorts of tech. The movie at the Hoyts Megaplex is over but the murder is only just beginning. Stabbings, ninja skills, hacking and explosions are all a part of the fun. Unravel the clues and see if you can capture a Facebook killer. This story is unique in our set because in addition to a murder, three more of your guests are tragically killed. Is it Larry Page the creator of Google, or Mark Zuckerberg the facebook maestro that is the killer?
Adult Themes: Nil.
Costumes: Guests come dressed in your ball gown, tux, suit, flannies, hoodies, surf gear, goth, punk, emo, jock, sports player or any other teenage stereotype.
How Do Costumes and Characters Work? To make the game as easy as possible to organise, your guests do not need to dress as any particular character. The costume they wear does not affect the character they play in the murder mystery. You allocate the murder mystery characters on the night of the party. This means that if guests are sick and can't make it or extra friends want to come then there is no impact on running the game.
Normal Use: This is only suitable for a 13+ or adult audience.
Group Size: 2 to 15, 2 to 60, 60 to 120.
Are your privacy settings enough to save you from a Facebook Fatality?
Please check if your game is
Downloadable

or

Boxed

when you order.
What is the difference between
Download

and

Boxed

Games?
Download

- You receive the high quality materials electronically. You download and print the materials yourself and save money. Nothing is posted to you.

Boxed

- Your game is printed and packaged by us, saving you time and providing the highest quality materials. We post to you anywhere in the world.
What is the difference between Dinner Edition and Premium Edition Games?
Premium Edition:
Premium Edition games are the ultimate in interactive fun. They are a full night of entertainment and require a host (friend or hired) to run them. Your guests work in teams to solve the crime and there is heaps of mingling and sleuthing fun. If you want an amazing night your friends will remember for ever, Murder In A Box Premium Edition games are the way to go.
In a Premium Edition game your guests play the characters in the murder mystery story.
Perfect for:

Any event that you want to be amazing
Staff, Christmas, work, birthday party
Super fun party
Conference
Fundraiser
Team building
Hen's night
What you get in a Premium Edition murder mystery game (depending on size):

The Murder In A Box – box

(not in download)

Contents sheet
15 to 120 electronic invitations to print or email before the event
The Presenter's Handbook
The Full Story
Extra games
Decoration suggestions sheet
15 to 120+ character name badges
Evidence that is hidden and found
Planning a fantastic party guide book
60 to 120 cryptic clues
The full story
A pair of handcuffs

(not in download)

2 props to be used - Such as a secret letter
Special awards
Sleuthing materials
8 to 18 pens

(not in download)

8 to 18 sets of team directions
Welcome sign
Information about venue set up
Dinner Edition:
Dinner Edition games are very easy to run. They do not require a hired host and are great to enjoy around a dinner table.
In a Dinner Edition game your guests play investigators that are trying to solve the crime. The characters your guests wear on their badges are not directly mentioned in the story and so you have lots of flexibility with how many people play the game.
Perfect for:

Any low key event
Dinner party
Dinner at a restaurant
Backyard party
At work while other things are going on
What you get in a Standard Edition murder mystery game:

The Presenter's Handbook
8 name badges
A Suspect's Sheet for each player
8 round 1 scripts
8 round 2 scripts
8 round 3 scripts
The full story
Our Murder Mystery Party Games
Click a game to learn more
Boxed and Download - Adult murder mystery games
Download Only - Adult murder mystery games
Teenager murder mystery games
Adult and teenager party games (no murder)
Kids' party games (no murder)
Mini Murder Mystery Party F.A.Q.
How much do murder mystery games cost? Click the game images above to see prices.
Do we need a host? It is up to you. You purchase a game from us then run it yourself or hire a murder mystery host.
Are you available on...? Click hire a murder mystery host. Contact the hosts to check their availability.
Does everyone get a character? Sure do.
What do I get? Our murder mystery games contain between 100 and 300 items to make your party fabulous.
Can I ask questions? Yes please. Click "Contact Us" above.
Our copyright rules short version
If you are making money from the game e.g. selling tickets to a show, using it for commercial clients, using it as a training tool for paying participants, you may only use the game once.
If you are NOT making money from the game e.g. holding a party for yourself or your work, you may use the game as many times as you like.
We want to help you make a profit from our games. Purchase a game, sell tickets and make money.
© 2021