Northern Territory - Murder Mystery Actors For Hire
Have you ordered your game yet? Remember you need a murder mystery game and a host!
---
Danielle Aquilina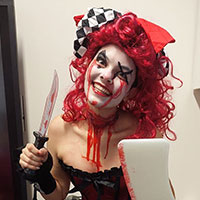 Suburb: Darwin
Phone:

0439 730 723

Email:

danielleaquilina@outlook.com
Professional Fun Person and Darwin local Danielle Aquilina brings a killer attitude to hosting your Next Murder Mystery. A Serial Offender when it comes to deadly direction - She'll have the whole jury hooked with her Hosting. It would be a crime not to have her host your next Murder Mystery Night Out. It'll be a SCREAM!
---
Stacie Ashlett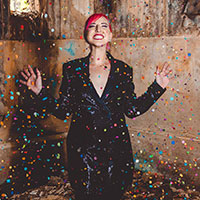 Suburb: Darwin
Phone:

0416 592 445

Email:

stacie@hyperclown.com
Stacie Ashlett is the pink haired crazy-fun lady that will make your Murder Mystery event a guaranteed AH-mazing experience! Stacie is high energy, helpful, funny and extremely wacky. These qualities will ensure your guests will feel included from the time they enter the mystery! Stacie has been entertaining both children and adults full-time for over 10 years now so you will be sure to have a smooth and memorable experience.
---
Bryan Cutts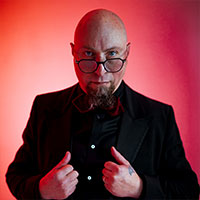 Suburb: Darwin/Regional NT
Phone:

1800 687 337

Email:

scream@murdermaster.com.au
Bryan Cutts is the host who will turn your corporate function or private party into an utterly unique and memorable event. You and your fellow suspects will be embroiled in a dastardly Murder. Everyone will fight to establish their alibis and prove innocence, while solving the crime and discovering whodunnit. Plenty of finger pointing, backstabbing, blackmail and unbridled skulduggery will ensue. Invite Bryan the Murder Master® to your event today, anywhere, anytime, anyhow… it'll be a scream!
---
Daniel Tusia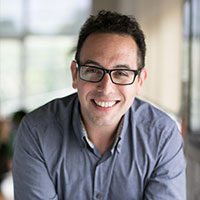 Suburb: Darwin
Phone:

1300 261 545

Email:

daniel@applause.com.au
Daniel has a long background with murder mystery parties having run them all around. Daniel is a great host who specialises in live interactive entertainment and will bring something special to your party. Daniel also provides a team of professional performers who are available to host your murder mystery.
---
Our Murder Mystery Party Games
Click a game to learn more
Boxed and Download - Adult murder mystery games
Download Only - Adult murder mystery games
Teenager murder mystery games
Adult and teenager party games (no murder)
Kids' party games (no murder)
Mini Murder Mystery Party F.A.Q.
How much do murder mystery games cost? Click the game images above to see prices.
Do we need a host? It is up to you. You purchase a game from us then run it yourself or hire a murder mystery host.
Are you available on...? Click hire a murder mystery host. Contact the hosts to check their availability.
Does everyone get a character? Sure do.
What do I get? Our murder mystery games contain between 100 and 300 items to make your party fabulous.
Can I ask questions? Yes please. Click "Contact Us" above.
© 2022