New Zealand - Murder Mystery Actors For Hire
Have you ordered your game yet? Remember you need a murder mystery game and a host!
---
Stephanie Lee

Suburb: Auckland
Email:

stephaniecatherinelee@gmail.com
I am a confident professional actress in Melbourne. I am a huge Agatha Christie fan and have performed in many murder mystery plays. Recently I won a performance award for the greater Auckland area for my leading role in a murder mystery (MPA Theatre - Auckland)
---
Michelle Wilson

Suburb: Bay of Islands
Phone:

027 4386 414

Email:

ebbnflowboi@gmail.com
An enthusiastic festival, theatre and live music follower. Shell has worked in the Arts/Cultural sector for over 13 years, undertaking many projects including devising productions, managing tours, organising performance evenings and is a proud facilitator for change in the community. Currently a TIC of Drama at the high school, a position held for 13 years, she also has a long career in the Tourism and Hospitality industries. Has experience in organising tours, so can assist with companies or parties wanting to escape to the Bay of Islands as part of a group/conference weekend away and wants to include an awesome Murder Mystery Evening for you.
---
Murder Master®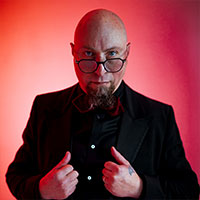 Suburb: All Areas
Phone:

+61.2 7911 3166

Email:

gozonewebenquiry@murdermaster.com.au
The Murder Master® hosts Murders across Australia and New Zealand!. He travels from central western NSW, Australia. Please take into consideration flights and accommodation costs which may apply to your event budget.
The Murder Master® is the host who will turn your corporate function or private party in Australia or New Zealand into an utterly unique and memorable event. Everyone will fight to establish their alibis and prove innocence, while solving the crime and discovering whodunnit. Plenty of finger pointing, backstabbing, blackmail and unbridled skulduggery will ensue. Invite the Murder Master® to your event today. Killer events anywhere, anytime, anyhow… it'll be a scream!
---
Our Murder Mystery Party Games
Click a game to learn more
Boxed and Download - Adult murder mystery games
Download Only - Adult murder mystery games
Teenager murder mystery games
Adult and teenager party games (no murder)
Kids' party games (no murder)
Mini Murder Mystery Party F.A.Q.
How much do murder mystery games cost? Click the game images above to see prices.
Do we need a host? It is up to you. You purchase a game from us then run it yourself or hire a murder mystery host.
Are you available on...? Click hire a murder mystery host. Contact the hosts to check their availability.
Does everyone get a character? Sure do.
What do I get? Our murder mystery games contain between 100 and 300 items to make your party fabulous.
Can I ask questions? Yes please. Click "Contact Us" above.
© 2023