Murder Mystery Dinner Party Hobart Tasmania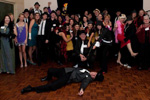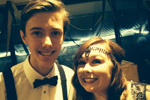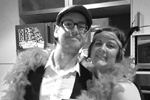 Why are murder mystery dinner parties getting so popular in Hobart and Tasmania?
As you know, trends come and go all over the place. Sometimes, trends will stick around for awhile and then disappear. Other trends may come about and stick around for a good long time. One trend that seems to ebb and flow somewhat is that of the murder mystery dinner party. If you've ever been to a murder mystery dinner party in Hobart or Tasmania, you may understand why they're so exciting to people – but if you haven't, let's take a look at why people really get into these fun and exciting events.
Our Murder Mystery Party Games
Click a game to learn more
Boxed and Download - Adult murder mystery games
Download Only - Adult murder mystery games
Teenager murder mystery games
Adult and teenager party games (no murder)
Kids' party games (no murder)
Mini F.A.Q.
How much does a murder mystery game cost? Click the game images above to see prices.
Do we need a host? It is up to you. You purchase a game from us then run it yourself or hire a murder mystery host.
Are you available on...? Click hire a murder mystery host. Contact the hosts to check their availability.
Does everyone get a character? Sure do.
What do I get? Our murder mystery games contain between 100 and 300 items to make your party fabulous.
Can I ask questions? Yes please. Click "Contact Us" above.
Why A Murder Mystery Dinner Party?
We all like a good mystery. For example, look at what is on television. How many different shows do we watch on TV that have some sort of mystery or murder component to them? If you flip through the channels late in the evening, you will likely find that there are quite a few of them. We all like to try and figure out who has committed a crime, even if we know that it's fictionalized in one way or another.
That's the sort of thing that you will be tapping into when you host a murder mystery dinner party. Even though your guests will know that there really hasn't been any sort of murder committed, they will still get that same rush that they get from watching those sorts of things in movies or on television. And because of that, they will be more likely to be engaged with you and with each other throughout the whole party.
On top of all of that, it's just something that is new and different. We've all been to all sorts of parties, and if you host a murder mystery dinner party, you will find that it's definitely got a different look and feel than other types of parties that you may be enjoying on a regular basis. And we all need something different in our lives every once in awhile, don't we?
We've Got Everything You Need to Get Started
So, how do you get started? That's where we come in. With the Murder in a Box, we can help you host a murder mystery dinner party in Hobart or Tasmania without breaking the bank or making you stress out over all of the little details. When you order your box, you will get a ton of different items that you can use in order to host your party, and if you want, you can even make it so that someone that has been trained by us can come in and host it for you.
So what's inside the Murder in a Box? Lots of stuff, actually. Here's a quick look.

Other activities that your guests can enjoy, either in between scenes or before/after the murder mystery has been going on
Handbooks, guides, evidence, clues, and other information that you will need in order to make sure that you can execute the whole murder mystery properly.
Invitations and name tags for everyone that you plan on inviting to your party – and the name tags have hilarious, amusing names that your guests will be able to play into all throughout the party.
Every sort of prop that you can imagine, so that you can get a little bit of the realism that is related to figuring out the mystery and such.
Does this sound like it's right for you and your next party? Great! Then come check out our website or contact us so that you can order your own party in a box. No matter how big or small your party may be, we've got what you need.
© 2020