Murder Mystery Dinner Party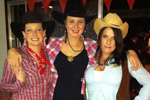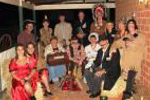 A Murder Mystery Dinner Party Is Perfect For Your Next Party
If you are looking for something that would get your party going in a great way, you could consider getting a Murder Mystery Dinner Party kit for your group of friends. There are a lot of things that you can do with a murder mystery kit, and in this article, we're going to explore some of the exciting things that you can find if you decide to embark on this mysterious adventure.
Our Murder Mystery Party Games
Click a game to learn more
Boxed and Download - Adult murder mystery games
Download Only - Adult murder mystery games
Teenager murder mystery games
Adult and teenager party games (no murder)
Kids' party games (no murder)
Mini F.A.Q.
How much does a murder mystery game cost? Click the game images above to see prices.
Do we need a host? It is up to you. You purchase a game from us then run it yourself or hire a murder mystery host.
Are you available on...? Click hire a murder mystery host. Contact the hosts to check their availability.
Does everyone get a character? Sure do.
What do I get? Our murder mystery games contain between 100 and 300 items to make your party fabulous.
Can I ask questions? Yes please. Click "Contact Us" above.
What Comes in the box or download?
First off, if you get the box, there's a premium edition that you can try out and enjoy with your guests. You will have a host, you have a number of different mystery games that you can play, and there are even fun and silly activities that you can enjoy on the side. That being said, you will have one guest that is "murdered" (but they still get to have fun with the rest of the group), one who is the murderer, and then everyone else works to try and figure out who actually did it. Everyone gets split up into teams in order to try and figure out the ultimate "whodunit." The minimum age that is recommended for the game is age 11, and it's great for teenagers and adults alike. There are multiple packs that you can buy as well – so you can make sure to get one that will be appropriate for the party that you are going to throw.
The box will, obviously, have different contents based on how many people you are working with at your party. You will get lots of different materials, including items for the murderer and the murdered, funny names for everyone (but no scripts are necessary), and a variety of other items that allow you to keep the fun going for as long as the party is going on. We will even help you take care of the invitations as well, so all you have to do is find a place to host it and give us the list of people that need to be invited. Piece of cake!
Can I do it myself?
Absolutely! There are two different types of murder mystery boxes that you can get. First off, you can do it on your own, where you host the party yourself and all of your guests are involved in the murder mystery while you oversee what is going on. With this box, you act as the narrator and you take care of everything that is involved with the whole story. You will be able to recommend costumes that your party guests can wear to the party.
Of course, if you want to get in on the fun, there's a way that you can do that as well. There are trained hosts that are located all over the country. We can connect you with one of these hosts, and they can help you to make your party a lot of fun. That being said, you don't miss out on anything either. Everything included in the do it yourself (DIY) box is also going to be available when you have a host come in and help you out.
So, if you're looking for something fun that can make your guests mingle and enjoy each other's company, you will find that it's a good idea for you to try out our Murder Mystery Dinner Party kits. They're a lot of fun and you will be able to get everyone talking about the parties that you've been hosting because of the time that you've taken to do this!
Are you located in the United States? Why not try on new USA based murder mystery dinner site https://murdermysterydinnerusa.com.
© 2020