Murder Mystery Games for Small Groups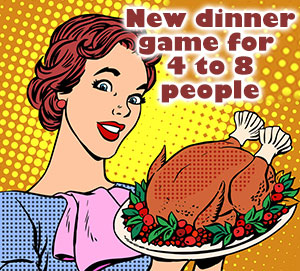 You don't need a big crowd to have a big party
More often than not it is the small parties with 3, 4, 5, or 6 people that are the most intimate and memorable. Murder in a Box Mystery Parties offer the flexibility to host a fun, interactive party for large groups up to 120+ people (work gatherings, fundraisers and other large scale social events) but also for the smaller, more exclusive parties for 14 or 15 close friends, without compromising on the quality of the party experience and the amount of enjoyment everyone will get out of it. Maybe you're a bride-to-be looking to have your bridesmaids over for a 10 people Murder Mystery Game. Maybe you're organising a child's birthday party and you're hoping not to have too many kids over - a 12 people Murder Mystery Game would be just the right size. Whatever the occasion for your small group gathering, Murder in a Box has a Game that will suit you!
Our Murder Mystery Party Games
Click a game to learn more
Boxed and Download - Adult murder mystery games
Download Only - Adult murder mystery games
Teenager murder mystery games
Adult and teenager party games (no murder)
Kids' party games (no murder)
Mini Murder Mystery Party F.A.Q.
How much do murder mystery games cost? Click the game images above to see prices.
Do we need a host? It is up to you. You purchase a game from us then run it yourself or hire a murder mystery host.
Are you available on...? Click hire a murder mystery host. Contact the hosts to check their availability.
Does everyone get a character? Sure do.
What do I get? Our murder mystery games contain between 100 and 300 items to make your party fabulous.
Can I ask questions? Yes please. Click "Contact Us" above.
Murder Mystery Game Characters
Murder Mystery games offer the chance for you and your guests to take on different personas as you act out different Murder Mystery Game Characters for your party. Murder in a Box comes in a range of different themes to suit your tastes. Why not dress up as flapper girls and gangsters for a Tracy Gang themed party, or as cowboys, Indians and saloon girls for your Wild West party? No matter what your age group, favourite movie or time period is, Murder in a Box has a party just waiting for you to host it! Murder in a box comes in both boxed and downloadable versions, so you have the convenience of choosing whether you want to receive everything you need for your game in the mail, or to have it instantly to print off yourself. It all depends on how much time and budget you have to spend.
Where to Host Your Murder Mystery Party
Having a small group of people attending your Murder Mystery Party has the added bonus of the ease with which you can find a venue. Instead of having to hire a huge dining hall, a small group of 8 people for example can very easily be comfortable in a house, apartment or private room in a restaurant. This saves you time when you're planning your party while also being easier on your wallet! Games tend to work best with between 8 and 15 people, so make sure you don't cut too many people from the invite list.
© 2021