Hen's Night Ideas At Home
Plan a Murder Mystery Hen's Party
Why put on an average Hen's Party when you can dress up, have fun and solve a murder all in the same night? Instead of throwing the usual party for the bride, get one of the murder mystery party games Darwin, Northern Territory women will enjoy. You don't need the men around to play this interactive mystery game.
Great Game for the Ladies
The murder mystery party games have several editions to choose from that will make for a fun evening of play. Most women like to dress in beautiful gowns and the Hollywood Scandal murder mystery will allow them to dress as Hollywood movie stars of the past or the present.
The room can be decorated to reflect old Hollywood or you can add touches around the room to match lifestyle of today's Hollywood starlets. Another idea would be dress in the characters of a Hollywood movie about weddings. Order replicas of the famous Hollywood sign for your walls and take pictures of everyone dressed their best for the bride's scrapbook.
If Hollywood doesn't appeal to the group, the Wild West murder mystery game can be played with an all-female cast because the story involves a wedding and swapping babies. The ladies can dress up like cowgirls, dance hall girls or they can play cowboys if they wish. Although guests are not required to wear costumes, someone wearing jeans, western boots and a button-up blouse would fit right in the Wild West game.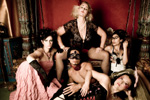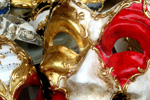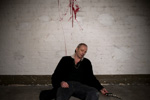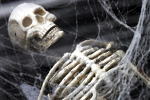 Make Sure Your Room is Big Enough
Depending on how many partygoers you have, you may need to hire a venue for your game. The room should be large enough to give everyone room to move about, solve the clues and to have fun. A banquet or conference room in a hotel would be ideal or you could ask to use a large room in the church where the wedding is being held. The mystery games can be played by as few as two people and editions are available for as many as 15, 60 or 120 players.
Everything for the Game is Included
When you order a murder mystery party game, everything you need to get started is included. There is a guidebook for playing the game, invitations you can send out for the party, pens, the clues you need to solve and the details about the story as well. The only extras you need will be decorations, costumes and party goers.
Our Murder Mystery Party Games
Click a game to learn more
Boxed and Download - Adult murder mystery games
Download Only - Adult murder mystery games
Teenager murder mystery games
Adult and teenager party games (no murder)
Kid's party games (no murder)
Duration of the Game
There would be plenty of time for other activities during a Hen's Party if you wish. The murder mystery party games Darwin, Northern Territory usually last between two and three hours. It won't take up the entire night, so you could still have dinner or take time to chat and catch up with friends attending the party.
Enjoying Snacks and Drinks
If you plan to have food at your party, during the game it is recommended that you stick with finger foods and drinks. The players need room to move about and play, so a dinner setup doesn't work well within the game. If you wish to serve dinner, try to schedule it before the game or after it has ended.
For more fun, choose foods that fit in well with the theme for the murder mystery party game you selected for the Hen's Party. For the Wild West game, you could have tortilla chips and salsa with sarsaparilla, root beer, to drink. Canapés and champagne would go well with the Hollywood Scandal murder mystery game.
By planning the theme, the costumes and decorations, the Hen's Party will be memorable for the bride and her friends.
We recommend the murder mystery themes Hollywood Scandal or Wild West for a hens' night or bachelorette murder mystery.  With Hollywood the characters can all be female and your guests can come dressed as their favourite Hollywood actor or in their most glamorous outfits.
With our Wild West story, two of the characters give birth and two get married so it is lots of fun.  Some of the characters will be boys but this just adds to the fun.
If you are organising a hens night, murder most devious is a recipe for success.
Our Murder Mystery Party Games
Click a game to learn more
Boxed and Download - Adult murder mystery games
Download Only - Adult murder mystery games
Teenager murder mystery games
Adult and teenager party games (no murder)
Kid's party games (no murder)
© 2019