Wedding Party Theme Ideas
Murder and Weddings make the perfect memory!
Having a Murder Mystery Brisbane Queensland wedding reception is an idea you will never regret. It can provide you and your guests with a fun and unique experience that holds the honour of your special day in hand. It can also prove to provide you with some benefits at the reception that you may not have considered. The Murder Mystery is an ideal replacement for the open bar or dance floor, have some of that too - but add in a little more that helps to bring people together.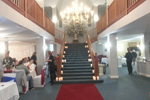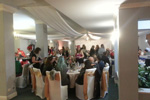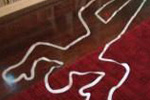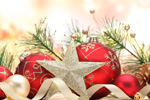 Who plans a murder for their wedding reception?
If the idea of planning a murder mystery for your wedding reception seems out of hand - think about it some more. By hosting a Murder Mystery Brisbane Queensland event during your reception, you are taking greater control of the day and making sure that your guests truly enjoy their stay, and their dinner. It is unexpected, thrilling and something that can be tailored to suit all ages. It can do wonders for helping bring families together too.
How it can help to bring families together
It may seem like staging a murder may be an odd way to bring families together, but it make sense. The usual wedding reception sees the two families mingle, then separate for hours as they stay at their tables and don't really get a chance to meet. By hosting a Murder Mystery, you can get both sides together and interacting in a way that doesn't involve any family drama - all the drama is pre-arranged. This can help make people more comfortable with each other, it can even help some get over any rivalries or issues they may be having. When you talk to your Murder Mystery Brisbane Queensland planner you should make sure to openly discuss the developing dynamics between your two families. Sometimes a bit of ironic fun that highlights ridiculous dynamics lets people get past them faster. If nothing else, it means less people will be sitting at a table just eating and drinking to excess. Murder Mysteries are far more engaging than the dance floor.
Our Murder Mystery Party Games
Click a game to learn more
Boxed and Download - Adult murder mystery games
Download Only - Adult murder mystery games
Teenager murder mystery games
Adult and teenager party games (no murder)
Kid's party games (no murder)
Making your special day as memorable as possible
Hosting a Murder Mystery Brisbane Queensland wedding reception can truly make your special day memorable. You have to remember that the majority of your wedding pictures will come from the reception. It can change the entire tone of your wedding album if the pictures are themed because the reception was designed to support a murder mystery. It can also add a fun and casual element. If you allow time for people to change out of their finery and into costumes the resulting pictures will be amazing. Some people have even themed the actual ceremony, dressing up like gangsters and molls at the altar and "the shot being fired" as they leave the church to kick off the festivities. It is your day; it should be as fun and memorable as you want it to be.
Just have fun with it and make it your day!
Your wedding is your day to have the world as you want it. You are also responsible for keeping your wedding party entertained and there is no easier way than to host a Murder Mystery Brisbane Queensland wedding reception. Talk to one of our planners and we will help you get everything in place for your big day. From choosing the mystery to working out the details with the location, and even helping you with how to announce what will be happening - your murder mystery adviser can help you get it all planned out.
Our Murder Mystery Party Games
Click a game to learn more
Boxed and Download - Adult murder mystery games
Download Only - Adult murder mystery games
Teenager murder mystery games
Adult and teenager party games (no murder)
Kid's party games (no murder)
© 2019