1920s Party Theme Ideas
Why are the 1920s such a popular choice for Murder Mystery parties?
A majority of the Murder Mystery Melbourne Victoria parties are set in the 1920s. The ages of gangsters, molls and hardboiled detectives remains popular with everyone even today. Choosing to host a party set in the 1920s can be a great idea, but you can do a lot more to let your party stand out from the rest. Don't just thing of guns, games and gin when you do your party. The 1920s had a lot of other things going on that would make an ideal setting for your party.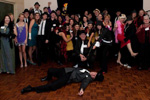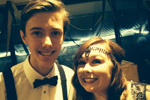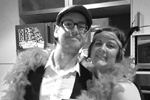 Trains, Planes and Automobiles
The 1920s is when trains, planes and automobiles began to come of age. While the 1800s saw a lot of their mysteries set on trains, the rise of the personal automobile led to a lot of the news items in the 1920s. Gangsters started doing drive-bys. Airplanes began to be in use for high powered executives. The train continued to be a popular choice of transportation. Rather than just set your Murder Mystery Darwin Northern Territory party in the 20s, get specific. You can stage your event as if it were in a 20s bank or airport. Think Casablanca and the era that occurred after World War I and before the next Great War. There was intrigue everywhere and it was transportation that made it all possible. You can even stage a murder mystery on a hiking trail or in a park, it is made all the more spectacular because in that era - where you were at the time was where you were. There was far less cross-over of locations so you could really capitalise on an inexpensive outdoor location.
Our Murder Mystery Party Games
Click a game to learn more
Boxed and Download - Adult murder mystery games
Download Only - Adult murder mystery games
Teenager murder mystery games
Adult and teenager party games (no murder)
Kid's party games (no murder)
Imagine
Imagine that your party is arriving by motorcar and part of your Murder Mystery Perth Western Australia event is having their motorcade blocked on the rode by two people - gangster and moll - who have become stranded. While you stop to help, not only does a murder occur, but the cars are mysteriously disabled. You are left to all walk to the next down to try and find a phone. As you walk, even more mystery happens.
Let your ideas come to life
There are a lot of things you can with your Murder Mystery Darwin Northern Territory party that will make it unusual and unique. Using the idea of the motorcade rescue, you can throw a party that also in introducing new co-workers or neighbours to the area. By setting up clues around town, everyone will see more of it. This is an ideal way to create a bond, and let new people become more comfortable with their surroundings. Throw in a murder or two, and then end it with a great dinner and you have the perfect recipe for an ice-breaker event.
Find out what you can do
To find out what you can really do for your Murder Mystery Sydney New South Wales party you should talk with one of our professional consultants. We have been staging murders all over town and you can use our specialised knowledge about what it takes to make a good mystery party even better. We'll explain the key elements, provide costumes and oversee the pacing and delivery of the mystery. Once we know what you want to do, we can work to make your idea a reality. Hosting a murder mystery can be the best way to introduce yourself, or to take new people in and let them get to know the area and people better. It certainly beats leaving a pound cake on the step.
Our Murder Mystery Party Games
Click a game to learn more
Boxed and Download - Adult murder mystery games
Download Only - Adult murder mystery games
Teenager murder mystery games
Adult and teenager party games (no murder)
Kid's party games (no murder)
© 2019