How To Host A Murder Mystery Party
Congratulations on purchasing your Murder In A Box Premium Edition game! This information is designed to guide Party Organisers (that's you!) through the preparation process, all the way to a great event. 
Your Murder In A Box Premium Edition party will be a fantastic night of interactive sleuthing.  These suggestions are designed to help make your night as fantastic as possible.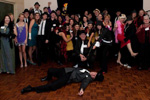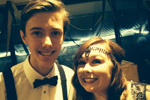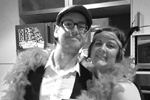 What how to host a murder mystery party game should I get?
Below are our fabulous themes. Click the game image to get all the gossip!
Our Murder Mystery Party Games
Click a game to learn more
Boxed and Download - Adult murder mystery games
Download Only - Adult murder mystery games
Teenager murder mystery games
Adult and teenager party games (no murder)
Kids' party games (no murder)
Mini F.A.Q.
How much does a murder mystery game cost? Click the game images above to see prices.
Do we need a host? It is up to you. You purchase a game from us then run it yourself or hire a murder mystery host.
Are you available on...? Click hire a murder mystery host. Contact the hosts to check their availability.
Does everyone get a character? Sure do.
What do I get? Our murder mystery games contain between 100 and 300 items to make your party fabulous.
Can I ask questions? Yes please. Click "Contact Us" above.
How to host a murder mystery party!
Three weeks before your party:
Identify Everything
From the contents sheet (printing guide for downloads) identify each item and make sure it's all there.  Note that you can read "The Presenter's Handbook" but do not read "The Full Story" or "The Clues" (unless you are the presenter) as this identifies the murderer.
Read This Information Thoroughly
It's really important that you read this guide thoroughly, and you may like to use a pen and paper and make some notes as you go.
Select your presenter
When you are deciding how to host a murder mystery party the presenter will make a big difference. Either a hired host, yourself or one of your most outgoing friends will need to be your presenter.  This person will facilitate the event and their job is to lead the action, keep everything running smoothly and help people have a great time.
Anyone can do this, but we particularly recommend someone who:

Is outgoing, friendly and loves the spotlight
Has a big voice and can hold attention
Is willing to dress up, get into character and set a great example
Will have the time to spend 2-3 hours preparing for the party
Ideally, has some experience in acting, public speaking or facilitating groups
You can certainly be the presenter yourself but keep in mind that it is an extra job in addition to being the party organiser, which will require its own preparation.  We strongly recommend you only take on both roles if you feel like you'll have plenty of time to devote to it and don't mind being busy at the party. 
If you do not know anyone who would like to be the presenter, why not hire a local actor to do it for you?  Otherwise the Murder In A Box web site murdermystery.com.au has a list of experienced hosts in your area.  If you are expecting 40 or more guests, we recommend that you ask someone to assist the presenter.  Please give the presenter the "Presenter's Handbook" ASAP!
Select your venue
You can hold your party almost anywhere that you could hold an ordinary function or party.
The advantages of holding your party at home are:

It's free!
You have complete control over the space
You can easily set up in advance
You can use several rooms throughout the night
If you are going to hold your party at a function venue such as a hotel or restaurant, we recommend you select a venue that:

Is a totally private function room, ie:  not a restaurant with other patrons
Has plenty of room for guests to move around
Is very quiet – what would it be like with a band playing next door?
Has staff who understand what you will be doing and are happy to work with your plans
Understand the characters and groups
Each person at your party will be playing an individual character and will be given a character name badge at the party.  We recommend that you don't allocate characters until the night.  This means if guests can't make it the game won't be affected.
Your guests will work in roughly 4 to 7 groups of about the same size. You can decide how you want to break people into groups before the party or the presenter can split people up into groups at the party (recommended).
Send out your invitations
Your invitations explain to your guests that they have been invited to a Murder Mystery Night and provide costume suggestions.   Print or email the invitations provided online murdermystery.com.au/myparty (even if you have already verbally invited your guests) so they know what to expect.  We have included electronic invitations to save you time.
Collect RSVPS
Collecting RSVPs is always important for planning any function. However as we suggest putting people into groups on the night, it shouldn't be a problem if some of your guests can't make it at the last minute or if extras turn up.
Leading up to the big day…
Decide on your food and drinks
Your food and beverage choices will depend on your budget, your venue and your individual preferences. However, please note the following:

Light "finger food" is ideal during the event.
If you have to have a sit down meal it is best to play our game before or after the meal.
If you do wish to have a full meal, please eat before or after the entertainment as stopping half way through tends to detract from the night.
If you feel inspired, why not try some theme-based food? It adds to the atmosphere and interest. This can include what you serve, what you call it and how you serve it.  Use your free murder themed recipe book for ideas.
Try not to allow guests to drink too much too early or things may well lose their way…
Speak with your presenter
Check in regularly to make sure your presenter has read their notes and is well prepared.  Offer to help them rehearse and confirm what you will be providing.
Encourage Costumes
Costumes are an important part of the build up to you party and great outfits will really enhance the event!  It is up to you to encourage your guests to dress to fit the theme and offer your help if they need it.  Costume suggestions are on your invitations.
Decorate!
Decorating your venue creates a great atmosphere and can make all the difference to your event.  You can do as much or as little decorating as you like and there are plenty of low cost ways to transform your space.  If you do wish to decorate, use the "Decoration Ideas" sheet to get you started and allow plenty of time to set up on the day of your party.
Final things to think about
Here are a few final things to think about to make your event extra special:
Music
Background music can really enhance the atmosphere!  Try to choose music which suits your theme and ensure the stereo is in easy reach for the presenter to adjust the volume.  MP3.com, itunes and other online music sites are a great way to get music.
Set up
It is a good idea to visit your venue in advance and plan what will go where and how you will use existing furniture. For example:

Where is the best gathering space?
Where is a good place for the presenter's materials?
Where should the groups gather?
Microphone
Most groups do not need a microphone but it can be a big help if you have more than 40 guests or if you are using a particularly large venue.  If in doubt, ask your presenter if they'd like one.
On the day:
Venue set up
Get some friends to help set up your venue, checking the following things:

Decorate to suit your theme.
Clear your main room as much as you can to make plenty of space.  Put chairs around the edge of the room.
Close off any rooms that you do not want used. Why not use theme-specific signs on the doors e.g. "Marilyn's Powder Room - Keep Out".
Put away any delicate or valuable items for protection.
Confirm with the venue owner exactly what part of the venue you will be using.
Identify your central area which all the guests can gather in at once.
Set up your presenter's area
This should be easy for the presenter to access from their central "presentation area" and should contain all the items provided in your Murder In A Box Package.  Use the "Contents Sheet?" to ensure you've included everything. 
Bring everything!
Never assume your presenter doesn't need an item.
Relax and enjoy
This is the most important part! Remember the guests will be more likely to have a good time if you do!  Let the presenter work their magic and let the mystery unfold.If you don't know how to host a murder mystery party then you can relax. Our how to host a murder mystery party games contain everything you need.
If you have any questions contact us on the contact us link at the top of this page.
© 2020